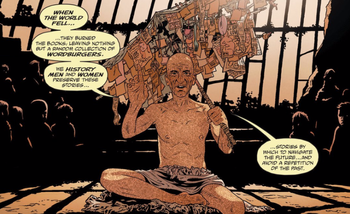 The Wasteland Elder is the de facto leader of their small, rundown community. Maybe it's After the End, it could be a Western frontier town fallen on hard times or even just a tent town for squatters in the middle of a city. Another common setting for the trope is an isolated area where the survivors of a plane crash, shipwreck, or (in a science fiction setting) spaceship crash are left stranded. No one elected them, they never put their name in a sorting hat, nor do they push their leadership on their people. They're simply an old survivor and respected enough that their word carries weight. And since pretty much everyone can theoretically grow old, wise, and respected enough to fill this trope, it is an equal opportunity character.
If the Wasteland Elder is not leading their community, chances are the actual mayor is either corrupt or has been forced to help the Big Bad. Classic roles for the Elder include acting as a first point of contact, quest-giver, and Mr. Exposition for The Hero in the beginning. Later they may rally the Untrusting Community to take up arms and become a Posse or on the other side inspire the protagonist to come out of their Heroic BSoD. With a little luck, their community won't be dying like animals any longer - but of course, the Elder themself runs the risk of Mentor Occupational Hazard. Some settings have the wasteland elder be a member or leader of La Résistance. Once the Big Bad is beat, surviving Wasteland Elders usually rally their constituents to start working to improve their town, thanking The Hero for all they've done and offers them a more permanent home, mostly to set up a But Now I Must Go.
Compare and contrast Wasteland Warlord, a more tyrannical ruler of the town and who is often the villain the Wasteland Elder is helping the heroes fight.
See also After the End, Reasonable Authority Figure, Character Witness. If they have "subjects" and are homeless, they're the King of the Homeless. Not to be confused with Hermit Guru.
---
Examples:
open/close all folders
Anime & Manga
In the manga version of AKIRA, Lady Mikayo becomes this after taking in refugees in the wake of Akira's Angst Nuke wrecking Neo Tokyo. Eventually, she evolves into the de jure leader opposing

Tetsuo

In the second story arc of Ergo Proxy, Hoody plays the role of the Wasteland Elder, though he bears a more flawed and human personality than others, and not everyone in the commune respects his word.
Fist of the North Star

The very first episode contains a Wasteland Elder when Kenshiro, dehydrated, meanders into a remote village in search of water and later encounters him.
A more important character, Shuu, is also a Wasteland Elder, albeit more badass than most.

One Piece: Though not of a wasteland, the elder of Amazon Lily is the first one to trust Luffy, and tries to convince the other villagers to trust him while they're following the law of the land and trying to kill him.

The trope was played somewhat more classically way back in the first appearance of Buggy the Clown, although in that case, he was the alder of a perfectly normal town that had only started to take on qualities of 'wasteland' recently after being occupied by circus-themed pirates.

Much of the conflict in the first episode of Tengen Toppa Gurren Lagann revolves around Simon and Kamina going against the elder of their village, who is preventing them from achieving Kamina's goal of going to the surface. Later, the team is joined by Dayakka, the elder of another village.
Comic Books
Batman: No Man's Land:

Dr. Leslie Thompkins, a contemporary of Batman's parents, is a respected figure who runs a refugee camp providing medical aid and other vital supplies to the people of Gotham after the city is ravaged by an earthquake and abandoned by the government for a year.
One-Shot Character Sarge Riley is a respected neighborhood elder who helps the people of his community by standing up to the Wasteland Warlords (albeit with an occasional Know When to Fold 'Em moment) and discretely distributing canned food from his Cold War bomb shelter to refugees.
Father Papaleo, an elderly, wheelchair-bound clergyman, serves as the co-leader of a pacifistic group and is arguably more worldly and practical than their leader, Father Chris.

Crossed

In Wish You Were Here, Rabb is a tough, cagey old fishermen with a Seadog Beard that's starting to go gray. He leads about thirty people in eking out a living on a previously uninhabited Scottish island and defending it from the Crossed (with a scheming former university lecturer as his self-appointed co-leader).
In the '+100'' storyline, 100 years after the Zombie Apocalypse, most of the resettled American settlements are governed by elderly, generally female, leaders and "Oldwoman" and "Oldman" are leadership titles. Most, if not all, of the ones to appear onscreen are killed by the Crossed or submit to them.
Murfreesboro, a community of Muslims (whose belief system has altered somewhat over the last century) is led by a woman called the Ima'am, who seems younger than most of the other leaders, although not by that much. She's kind of a Jerkass to the protagonist and has some bad Head-in-the-Sand Management moments, and is eventually forced to surrender her power to a Knight Templar following a coup.
One Mimic side story set in 2076 features a colony led by a man named James, a rugged survivalist type who is the only one of the group who was alive during C-Day, sixty-eight years earlier.

Judge Dredd comes across them from time to time whenever he heads out into the Cursed Earth. During "Origins", he meets one who is several old men fused together as one who prophesies doom when a child with two heads is born in his village, although one of the other judges in Dredd's party informs him of the abnormally high radiation count in the area.
Just a Pilgrim

In the original story, Billy's Cowboy father is the voice of reason among a group of refugees traveling across the former Atlantic Ocean (which has been evaporated by a solar flare) in search of water and refuge from Wasteland Warlord Castenado.
The sequel story features an oceanologist leasing a small settlement at the planet's last known oasis while preparing for a Homeworld Evacuation.

In the Mad Max: Fury Road comics there's the "History Men". Old men who remember enough (or are just good enough at making stuff up) of the old world that they've effectively become the minstrels of the wasteland, regaling listeners with tales of wonder from the old (Pre-Apocalypse) world or the bravery of wasteland warriors. Their bodies are covered with etchings of random phrases like "MCDONALDS", "COCA COLA", "J. R. R. Tolkien" etc, effectively making them walking dictionaries. A History Man technically shows up in the movie too, but only in a pre-credits quote, although Miss Giddy seems to be a proto-History Woman with her tattoos and being entrusted with the Wives' education.
One The Punisher one-shot story has Punisher go to an isolated town in the desert to help a Vietnam buddy against a Mega-Corp which is after their mineral-rich land. The local leader, Roland Hugh, is a tinfoil hat-wearing Conspiracy Theorist who seems to be the oldest person there.
Film — Animated
9: Number One is a rare nonhuman example, being the leader of a group of robots who were built as humanity went extinct and exist in a dangerous and desolate landscape.
In the 2009 Astro Boy movie, Astro runs into what appears to be one of these in junkyard city.

Turns out he's more than that, and pretty well known for mech cockfighting

with an absurdly large audience, which is against Astro's beliefs.

He also betrays Astro for being a robot.
Film — Live-Action
Beasts of the Southern Wild: Wink, the protagonist's father, is the authoritative and determined leader of a shantytown at the edge of a levee. The residents are imperiled by floodwater and live apart from the outside world.
The Book of Eli:

Carnegie presents himself as one, running a frontier town and being one of the only people to remember pre-World War III society. However, beneath the surface, he's more of an aspiring Wasteland Warlord.
The final scene features an old man running a museum in a Hidden Elf Village located in Alcatraz prison. He is happy to provide a safe place for Eli's Bible, while also accepting Solara into the group.

The Colony (2013): Briggs (Laurence Fishburne) is a former soldier who gathered a few dozen people to survive the second ice age in an underground colony and struggles to keep his Well-Intentioned Extremist second in command in line while working toward goals that will help their long-term survival.
The Dark Tower: Roland and Jake go to a desert village in a society that's been post-apocalyptic for a long, long time to seek help from a psychic. The village leader is a white-bearded man who was a young man when the Gunslingers were still a major force. He is eager to help out Roland, despite some initial dissent from a few of his people.
The Day After: Fifty-ish farmer Jim Dahlberg is seen voicing reasonable concerns and being taken seriously when the people in his rural community who survive the nuclear exchange get together to discuss the future.

However, he's killed not long afterward, before really getting an opportunity to take a leadership role.

The Dead: Amidst the Zombie Apocalypse, Brian and Daniel visit a village being run by a middle-aged army officer. He explains that and his men deserted from the army to protect their hometown.
Edgar Friendly in Demolition Man is a weird version of this. The "wasteland" consists of an underground community in the sewers of San Angeles where people have gone to escape the benign tyranny on the surface. Friendly has no desire to be a leader, but he's the one everyone listens to.
Land of the Dead: Retired Badass Mulligan is seen making speeches to rally the poorer people within the Fantastic Caste System of Fiddler's Green (a Citadel City surrounded by zombies) to improve their situation.

After most, if not all, of the wealthy elites get eaten by the zombies in the climax, Mulligan becomes the leader of the entire surviving community.

The narrators in the second and third Mad Max films are later shown to be grown versions of two children in the films.

Papagallo in Mad Max 2: The Road Warrior is the middle-aged leader of a refinery that Max offers to help defend from a Wasteland Warlord ... for a price.
Mad Max: Fury Road: The Keeper of the Seeds is an old woman who leads one of the only remotely civilized groups left in the Wasteland (although they aren't entirely above banditry themselves). She's a skilled warrior who keeps a bag of seeds and plants them when she can to try and make something good grow. While all but one of her companions are also quite elderly, she's the eldest by about a decade.

The Matrix: The subterranean post-apocalyptic city of Zion is ruled over by a Cosmopolitan Council of twelve elderly leaders. Each comes across as a Reasonable Authority Figure to some degree, particularly Councilor Harmann, a Cool Old Guy who provides some words of advice to Neo before a big mission.
The Old Man in The Magnificent Seven is probably the ur-example for the Western, running a town harassed by bandits.
No Escape 1984 takes place in a dystopian future where hundreds of convicts are dumped on an isolated island to kill each other. The man known as The Father (a former Beverly Hills doctor accused of killing his wife) leads a large faction devoted to finding redemption, living off of scavenged garbage, and fighting off the marauding prisoners who reject their philosophy.
Planet of the Apes:

In Beneath the Planet of the Apes, Mendez XXVI leads a colony of mutated humans (the only ones in their era still capable of speech) who are hiding from the Ape Empire but are pretty malevolent toward the protagonists.
In Battle for the Planet of the Apes, Mandemus is a rare non-human wasteland elder. He's the eldest, least-biased, and most philosophical co-leader of the Ape colony that survived the nuclear holocaust and is sharing their sanctuary with humans (with his younger co-leaders displaying varying degrees of Fantastic Racism). After Wasteland Warlord Kolp is defeated, his aide Mendez (a possible ancestor of Mendez XXVI) also becomes a wasteland elder, seeking to avoid confronting the apes and focusing on survival.
In Dawn of the Planet of the Apes, after the Simian Flu decimates humanity, Caesar leads a tribe of sentient apes living in the forest. Aging ex-military officer Dreyfus leads a nearby colony of struggling humans that (due to some misunderstandings and overzealous underlings on both sides) comes into conflict with the apes.

The Postman: Decades after World War III and the rise of a powerful racist militia, several towns are still eking out a living. The Sheriff of Pineview (a tough and cagey man), the mayor of Benning (who is eager to seize signs of a better future), and the bedraggled mayor of Bridge City (an implied Celebrity Survivor) are all middle-aged leaders who get along decently with The Postman and work hard for the sake of their communities.
Reign of Fire: Quinn leads a castle full of people who have spent twenty years avoiding rampaging dragons. He's a young example of the trope, but after twenty years without much adequate food or medicine, there aren't many elderly survivors left.
Resident Evil: Extinction: Claire Redfield, the leader of a convoy fleeing for a Safe Zone Hope Spot during the Zombie Apocalypse, might hold the record for the youngest example of the character (only one of the named group members is over forty, and he serves as the Friendly Sniper).
The Old village laeader in The Seven Samurai who inspired the The Magnicent Seven equivalent character.
Gilliam in Snowpiercer is an equivalent, where he's the de facto leader of the lower class in the back section of the train that's travelling through the wasteland.
Solarbabies:

Greentree leads the Eco-Warriors, who reside in a Hidden Elf Village with one of the world's few oases. Once, he led the battle against the Nebulous Evil Organization, but he's just been laying low and hoping to win by surviving for the past few years.
The Gypsy-esque Tchigani people are also hiding from the E-Police in the wasteland, although their community is far less prosperous than Greentree's. Their leader is only in his thirties and isn't particularly bright or pleasant. However, the group's eldest member is more approachable and the only one who's heard of Bodhi.

Ivor: He's old. He only lives to keep the past.

Soldier: Todd encounters a group of shipwreck survivors on an uncharted planet led by a compassionate but sometimes close-minded old woman.
Stake Land:

Each of the three featured towns holding out against the vampire hordes has an elderly or middle-aged authority figure who provides some exposition and security (a bartender, a sheriff, and a militia officer). It's unclear whether any of them are the actual leaders of their settlements, but the later two have at least some authority.
The sequel features a fortified compound run by an aging Manly Gay Battle Couple who come across as pretty good leaders.

The Old Woman in Terminator Salvation among the unfriendly survivors in the 7-11 gas station that Kyle Reese, Marcus Wright, and Star encounter after leaving Los Angeles. She and her clan get about two minutes of development and exposition before everyone in their "village" is squished or captured by giant robots.
Tremors 4: The Legend Begins: Fifty-ish hotel owner Christine Lord is the de facto leader of the Dying Town Rejection, a mining community plagued by monster attacks.
Virus (1980): In the final scene, Sole Surviving Scientist Dr. Latour is seen leading a ramshackle farming settlement with a few dozen other survivors (mainly women and children) of both The Plague and the nuclear missile strike that largely wiped out humanity. He tries to keep them optimistic about the future, even as his medical knowledge can only save some of them.
Waterworld: A small cabal of elderly and middle-aged Jerkasses run the coral atoll where Helen and Enola live after almost all of Earth's land is flooded.
Ethan in World Gone Wild is this, with more than a bit of Trickster Mentor thrown in. Ethan is a former hippie of about fifty who runs a village that appears to be in a former junkyard and has one of the only sources of water in post-World War III America.
Zombieland: Double Tap: The hippie commune of Babylon (the only known major human settlement ten years after the Zombie Apocalypse) is ran by an unnamed man with a long beard. He's nice enough, but what little leadership he exerts is mostly of the Too Dumb to Live variety.
Literature
Live-Action TV
Defiance: "Wasteland" might be a strong word, but Earth has been terraformed, suffered a big population drop, and been partially occupied by aliens. Nicky Riordan (an older woman with an oxygen tank) is the isolated mayor of the eponymous mining town and seems like a perfect Wasteland Elder, only her first scene has her retiring in favor of a younger mayor and it turns out that she's the Disc-One Final Boss and is trying to destroy the town to get at a spaceship beneath it.
Doctor Who: In "Daleks in Manhattan"/"Evolution of the Daleks", Solomon leads a Hoovervile in Central Park.
Firefly: "Safe" features a run-down religious community on the fringes of a frontier planet. The village leader initially comes across as a Reasonable Authority Figure when his lunatic followers decide to Burn the Witch! (or rather, the psychic). But it's implied that he killed his predecessor to get the job and changes his tune when River (the psychic) comes close to revealing this.
Jericho: In the aftermath of a series of nuclear bombings, small-town Colorado mayor and retired Army Ranger Johnston Greene struggles to keep his town safe and stable amidst threats like nuclear fallout, the cessation of outside food shipments, and Trigger Happy looters. Even after he's voted out of office in favor of a more gung-ho rival, Johnston remains a force for wisdom and stability. Phil Constantino, the sheriff turned mayor of the neighboring town of New Bern, also starts out as such a character but quickly turns into a Wasteland Warlord.
Dr. Jack Shephard in Lost seems to have fallen into this position among the stranded plane crash survivors, although the degree to which he brought it on himself is debatable.

Played with a bit in that as time goes on, uncertainty in his leadership grows until several members of the group break off and head out with Locke (who's much older than Jack) to stay on the island.

The Mandalorian

In season one, the weathered-looking Ugnaught farmer Kuiil lives in an isolated desert, serves as a source of wisdom, and takes it upon himself to keep the people of the area safe from bounty hunters. However, it's hard to tell for sure if he fits the role since the rest of his community remains offscreen.
In the season two premier (and Star Wars: The Aftermath Trilogy, which the episode adapts in Broad Strokes), Cobb Vanth is a gray-haired resident of an impoverished Tatooine village who finds Boba Fett's armor and uses it to protect the people of his village, becoming their shot-caller and self-appointed marshal.

The Outer Limits (1995): "The Camp" features an odd version of this, given that the wasteland is a post-apocalyptic concentration camp run by robots. The prisoners are led by a man known as the Elder. He is executed and replaced by the next oldest prisoner for making speeches about what the outside world used to be like.
Revolution:

The pilot episode is set fifteen years after a seemingly permanent worldwide blackout. The Decoy Protagonist (he's killed when a Wasteland Warlord tries to arrest him and the community puts up a fight) is former scientist Ben Matheson, who isn't really old but has young adult children. Ben is the leader a burgeoning Wisconsin farming community with a teacher, a doctor, and a gun or two.
Season two introduces Gene Porter, Ben's father-in-law, a Frontier Doctor and civic leader of a small, imperiled Texas community.

The Twilight Zone:

In "On Thursday We Leave for Home", Captain William Benteen has done all he can to keep the V9-Gamma colonists together and keep their hope for rescue alive, but it's Subverted when Colonel Sloane arrives and provides an escape from the wasteland and Benteen is less than willing to give up his role as a leader. He'd rather keep them on the desert planet, barely scraping out an existence and forever looking to him for guidance, than go back to Earth where they won't need him.
Played straight, then subverted in "The Old Man in the Cave." A town is managing to survive After the End by following the directions of a hermit living in a cave in the nearby hills, who sends his instructions through more traditional Wasteland Elder. Then a group of really asshole soldiers show up and storm the cave, revealing the hermit to be

a computer that the real Wasteland Elder had been using to determine what food and areas were radioactive and therefore to be avoided. The soldiers and townspeople destroy in a fit of rage

. After that, of course, they all die from not being able to tell what's radioactive or not.

The Walking Dead: Several appear, with varying degrees of success, such as Hershel, Deanna, and King Ezekiel.
Video Games
Doan from 2300 AD in Chrono Trigger qualifies.
There are numerous examples in the Fallout series of computer games; Killian Darkwater, the shopkeeper/sheriff/mayor of Junktown, to name one. In Fallout 2 it's established that the Player Character of the first game eventually became one.

The second game has two: The Elder (no name given) who is the de facto leader of your home village and fairly secular, and Hakunin, the old shaman who's invested in more spiritual matters.

King Damas in Jak 3: Wastelander fits this trope to a T, except for the fact that, as a Proud Warrior Race Guy, he and the citizens of Spargus City have taken up arms against the Marauders long before the main character arrives.

And the fact that he doesn't survive to see the rebuilding.

Knights of the Old Republic has Rukil, an elder outcast from the Taris Undercity who searches for the long-sought "promised land" in hopes of leading his people towards a better existence.
One such elder runs the city in Crimson Tears, asking you from time to time to donate money toward its renovation.
Talgeyl in Suikoden V plays this almost perfectly straight. Sadly, he's too pessimistic about his town's future to even ask for help when The Hero shows up, though he does later take a turn Training the Peaceful Villagers.
A Very Long Rope to the Top of the Sky: The tribal Somnians have "Grandpa".
Akama in Warcraft III: The Frozen Throne and the Black Temple trailer from World of Warcraft: The Burning Crusade.
Webcomics
Dominic Deegan Oracle for Hire: After the death of the mayor of Barthis and destruction of the town in a horrific necromantic attack, Pamela Chayler becomes the unofficial town spokeswoman and stands up to slimy businessman Serk Brakkis. She's later officially elected mayor, and not only gets the town rebuilt but adds cultural institutions and lowers the crime rate.
Western Animation
DuckTales (1987): In "Bermuda Triangle Tangle," the survivors of several shipwrecks end up on an island of seaweed with a settlement run by the middle-aged Captain Bounty. Bounty is a resourceful and altruistic leader, but also an over cautious one who doesn't devote as much attention to making it back to civilization as the others would like.
In Tangled: The Series season 2 "The Return of Quaid" episode, Rapunzel and Vex go to Quaid, the retired sheriff of Vardaros after unsuccessfully standing up to Weasel's attempts to rise to power. They discover that Quaid has retired to beekeeping and is out of practice, so Lance and the citizens help Quaid out by pretending to be thieves, allowing the townspeople to applaud him, which works... until it's discovered that Lance and the others were in on the scheme. Later on, Vex is made Quaid's deputy and she stands up to Weasel and his chief henchman, the Collector, and Quaid comes out of retirement to help revitalize the town, now that Weasel and the Collector have been run out of town, as Vardaros starts on the path to revival.
MICHELANGELO is one in a Post-Apocalyptic (think Mad Max) mutant world in Teenage Mutant Ninja Turtles (2012).
Teenage Mutant Ninja Turtles (2003):' The Professor is an erudite man who leads a large group of homeless men living in a dump.
---