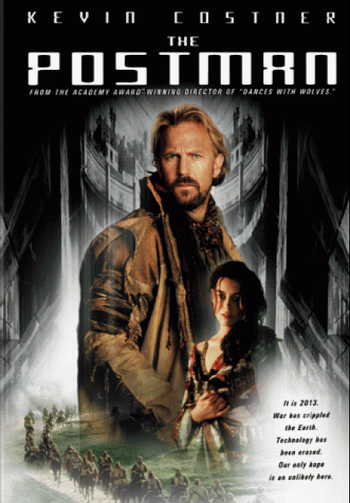 A
1997
movie based on
a novel
by
David Brin
, about a wanderer in post-apocalyptic
Oregon
who disguises himself as a U.S. Postman and weaves an intricate story about the government being reformed to get food and shelter from people. He rapidly progresses from pretending to deliver the mail to delivering the mail in earnest, and with the help of a young man he meets early in his travels, ends up recreating the postal service he claimed to represent. In the process he raises the ire of the
Holnists
, a cult of survivalists who have recently moved in and rule the area as feudal overlords, and the Postman and his new followers quickly find himself embroiled in a war.
It was not a very successful movie, failing at the box office, derailing Kevin Costner's directing career and winning several Razzie Awards, but its reception has become more positive since its original release.
Not to be confused with Il Postino (1994), another movie named "The Postman" from the 1990s.
---
Includes examples of the following tropes:
---