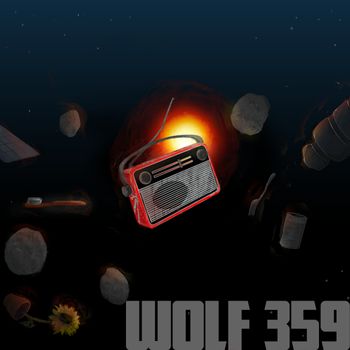 "Here I am floating in a tin can, no one to talk to except G.I. Jane, Russian Doctor Doom, and Deep Blue Barbie, and my hotel room missed the delivery area for the nearest Domino's by a couple of solar systems."
— Communications Officer Doug Eiffel
Wolf 359 is a Science Fiction Sitcom Radio Drama, with strong Horror and Thriller elements mixed in. It chronicles the adventures of the crew of the U.S.S. Hephaestus, a (fictional) space station orbiting around Wolf 359, a (real) star located 8 light years away from Earth. The stalwart team of misfits has been tasked with a series of experimental tasks and obscure mission objectives, among them searching for signs of alien life.
The show begins in an audio diary format, as we hear the various logs the crew records about the day-to-day happenings around the station. Later, it transitions into a more dialogue-based radio play. Most episodes focus on the difficulties of living in isolated deep space conditions or on the various conflicts between the volatile members of the crew. Said crew is made up by Mission Commander Reneé Minkowski, the Action Girl, Control Freak captain, Dr. Alexander Hilbert, the resident Mad Scientist and bunny-ears doctor, Hera, the station's A.I. Is a Crapshoot auto-pilot, and Communications Officer Doug Eiffel, the show's Reference Overdosed Lazy Bum and Jerk with a Heart of Gold. They are later joined by the previous commander of the Hephaestus, the Properly Paranoid Deadpan Snarker, Captain Isabel Lovelace.
The series strikes a balance between off-beat Black Humor and genuinely suspenseful and creepy stories, depending on the episode. A lot of this comes courtesy of the show's crapsack spaceship setting - sure, the show's episodes cover the day-to-day activities on the station, but on this station that can cover everything from encounters with radioactive mutant abominations, World Gone Mad bureaucratic regulations, and the increasingly difficult task of keeping their space submarine from springing a leak. Combine that with liberal doses of Paranoia Fuel and the steadily growing sense that there is more than meets the eye to the mission and the crew, and you start to get the picture.
Early installment could easily be described (for better and for worse) as an attempt to do Night Vale in space, even down to a recurring musical element. Fortunately, the most glaring of these elements faded into the background fairly quickly, replaced by a stronger focus on the interplay between the lead characters. Recent episodes can more accurately be described as what you would get if the team from Red Dwarf was stuck in the plot from Contact while working for the Cigarette-Smoking Man.
A web original audio drama, Wolf 359 is available for download on its official website
. Aside from the official webpage, the show also has a Facebook page
, a Twitter
, and a Tumblr
.
The show ended on December 25, 2017, with its season 4 finale, "Brave New World."
No connection to Star Trek, despite the Wolf 359 star system playing a pivotal role in that franchise's history, and sharing the US Navy-inspired "USS" ship naming convention.
---
open/close all folders
This podcast provides examples of:
A-G
H-P
Hera: You don't spend five weeks teaching your AI how to isolate her physical symptoms if you don't want her to develop some...quirks.
Q-Z
Quit Your Whining:

Kepler

has no qualms about pushing the crew hard. He is also a giant bag of dicks. As a result, he uses this line a lot.

Kepler

:

Well it's a good thing I'm the head of the complaints department. Oh, wait, no. I'm actually the head of the "I Don't Give a Rat's Ass, Shut Up And Do Your Job" department.

In "Mayday,"

Eiffel hallucinates Lovelace

telling him to "quit whining, it's boring."

Ragtag Bunch of Misfits: The original crew +

Lovelace

definitely fit this trope.
The Rashomon: "All Things Considered" gives three crew members' increasingly unbelievable explanations for what happened to

Kepler's

whiskey.
Restraining Bolt:

In "Memoria", Hera and Maxwell discover that Hera's numerous malfunctions are the result of

a line of code put in her personality matrix by Dr. Pryce to give the superbly capable Hera crippling self-doubt.

"Desperate Times" reveals that Maxwell put another one on Hera to force her to obey her commandsnote
"Idle Hands" reveals that Goddard Futuristics can install restraining bolts on people too, although Lovelace's Alien Blood makes her, and anyone who receives a transfusion of her blood, immune.

Road Runner vs. Coyote: Word of God has it that Minkowski Commanding was at least partially inspired by the Road Runner cartoons.
Robosexual: Eiffel and Hera seem to have the closest relationship out of anyone on the station, and their interactions can often get very flirtatious. Whether this is the beginnings of a human-A.I. romance or just playful banter remains to be seen.

Although, as of "Limbo", this becomes even more ambiguous. Eiffel, after sharing his

backstory, involving drunk-driving his daughter into an accident that gave her severe head trauma,

and in the wake of

Hera crashing and possibly needing to be replaced,

responds to Minkowski's stunned "I don't know what to say." with:

Eiffel

:

Tell me Hera's gonna be okay.

In the Lovelace special, Lovelace has a kinda flirty moment with a computer virus (appearing in human form).

Rule of Funny: Season one definitely operated on the rule of funny. As the story has become more dramatic, the show has moved away from this a little.
Running Gag: Eiffel making pop culture references that no one else understands.

Updating the star charts.
"You might want to hold on to something."
"Hera, are you there?"

Sarcastic Confession: Minkowski in "The Paranoia Game," after Eiffel and Hilbert accuse her of stealing a screwdriver to frame Hilbert

Minkowski: Yes, you've seen through my intricate web of lies. Drat.

Say My Name: The characters usually address each other by last name, so when first names are used it's usually a pretty emotionally intense moment.

Jacobi

:

Alana, I didn't go anywhere.

In "Desperate Times," Eiffel gets Minkowski's attention by pronouncing her name right. It's the first time she's ever heard him say it correctly.

Lovelace refers to Hilbert as Selberg, the name that she knew him as.

It's a reminder that they have a lot of history that the rest of the crew isn't entirely aware of.

Screams Like a Little Girl: Eiffel, on occasion. The most notable example of this is when he's dragged out from under the console he was hiding under by

Lovelace, who has been possessed by the Dear Listeners

. He screams, cuts himself off, then screams again in a lower pitch.
"Second Law" My Ass!: One of Hera's favorite hobbies is looking for loopholes in her programming.
Servile Snarker: Hera has to do what the crew ask. That doesn't mean she needs to be respectful about it.
Shut Up, Hannibal!: When

Lovelace

asks how Minkowski can stand to be on the ship with Hilbert, Hilbert has a response. Minkowski shuts him down.

Hilbert: Because they understand what you never have. You do what you need to. You adapt. You survive. Sometimes you have to work with the devil, but—

Minkowski: Hilbert, stop talking.

Hilbert: Why? Am I being too indelicate?

Minkowski: No, because if you don't shut up right this second, she's not going to get a chance to kill you.

Skyward Scream:

Eiffel

has a particularly heart-wrenching one in "Mayday".
Sliding Scale of Idealism vs. Cynicism: The show seems to land pretty much in the middle. The show can be pretty dark, and many of the characters are in morally murky places. And yet at the same time, the show depicts characters moving on from past mistakes, showing empathy, and coming together to solve problems. The show is far from happy, but neither is it fatalistic.
Sliding Scale of Silliness vs. Seriousness: Slides all over the place.
Smart People Play Chess: In fairness, there's not very much entertainment in space, so everyone plays chess. But Hilbert is depicted as particularly good at it—so good he's only allowed to play the others while handicapped. Eiffel and Hera play each other frequently, although Hera always wins. And

Lovelace and Kepler

play chess during their interview in "Controlled Demolition."
Space Is an Ocean: If the temperature control systems have to be shut down and rebooted, the station will get perilously cold. This would make sense if they were surrounded by sea water, but vacuum, not so much.

Fridge Brilliance: Until you realize that the radiator panels are likely part of that same system. The station is actively radiating all heat until the system is rebooted properly, not just the excess.

Speaks in Shout-Outs: Eiffel to the point that, during his "no pop culture references for an hour" bet with Hera in "Bach to the Future," he often sounds like he's in physical pain. Seriously, probably half of his sentences get cut short or redirected due to near-referencing - not the mention the titular slip-up Hera graciously overlooked.
Something Only They Would Say: Lovelace initially doesn't believe Eiffel when he tells her he's no longer brainwashed, until he delivers a Reference Overdosed speech.

Lovelace: ...holy crap, it's really you.
Eiffel: Of COURSE it's- ...you believe me?
Lovelace: (through laughter) Yeah! No-one but you could ever say something that dumb, Eiffel!

Sound-Only Death: Well, duh, it's an audio drama. But even so,

both Lovelace and Hilbert's deaths

happen out-of-scene—we hear them from Minkowski's POV, through the intercom.
Staging an Intervention: Played for laughs in "Minkowski Commanding." Minkowski gets a little too intense about hunting the plant monster. Eiffel, Hera, and Eiffel pretending to be Hilbert are all concerned.
Stellar Station: The entire premise of the series details the exploits of the Hephaestus crew whose station is orbiting closely around the titular star. The difficulties this causes is a recurring point throughout the series, with it being made clear on several occasions that a single thing going wrong (such as Hera being damaged) could cause them to fall into the star. Not helped by the fact that Hephaestus is running with only three crew members and an AI (at the start at least) with limited supplies and only one engine.
Stepford Smiler: Mr. Cutter. True, it's an audio drama, so we never actually see said smile, but you can hear it.
The Stinger: Keep listening after the end credits for "Cigarette Candy" and "Overture".
The Storyteller:

Kepler

has a habit of going on long tangents about his adventures, most of which are comically farfetched and unlikely. The mini episode "Long Story Short" is consists almost entirely of

Jacobi

flashing back to the many stories he's had to hear out. May be a case of Badass Boast.
Suddenly Shouting: Kepler does this frequently when he's angry, or when he wants people to think he's angry. Exaggerated in "Desperate Times," when he goes off on Jacobi and Maxwell for

their supposed failure to properly monitor the power grid and get Hera fixed so she no longer randomly crashes, respectively. Not that it's actually their fault, technically.

Survivor Guilt: "Lame-O Superhero Origin Story" reveals Hilbert suffers this. The town he lived in as a child was near a nuclear reactor that melted down. Hilbert implies that it killed most of his family, but the one that cut the deepest was his little sister, who died as he watched.

Also Lovelace.

As of "Boléro", Eiffel and Minkowski both have this regarding the deaths of Lovelace, Hilbert, and Maxwell. It's likely that other characters are suffering from this too, although that's not explored in-episode.

Survival Mantra:

As shown in "Variations on a Theme", Lovelace has a few that boil down to "Be a big girl" and "Stay away from ghosts".

Sycophantic Servant: Jacobi has shades of this.
Take Our Word for It: We never get the full rules of Funzo or figure out exactly what happened with

Jacobi

and the cheeses. And we never see the spider, but judging by Eiffel's reactions, it was really big.
Talking to the Dead: In "Boléro," Minkowski talks to

Lovelace

, Hera talks to

Maxwell

, and Eiffel talks to

Hilbert. Lovelace, Maxwell, and Hilbert were all killed the episode before.

In "Dirty Work", the episode opens with Minkowski alone in her quarters, having an in depth conversation with

Hilbert.

The episode ends with her

thanking him for what he taught her.

Also in "Dirty Work",

Maxwell

guides Jacobi through

taking over the Hephaestus.

Terms of Endangerment: Cutter makes a point of calling his employees by their first names, and frequently addresses Eiffel as "Dougie-boy," and various other cutesy variations on "Doug."
Theme Naming: Human members of the crew seem to all be named after some kind of famous scientist or engineer. Eiffel shares his name with the famous French engineer and architect, and Minkowski, Hilbert, and Lovelace are all named after mathematicians.

Meanwhile, on the non-human side, Hera, Rhea, and the U.S.S. Hephaestus get their names from Greek mythology. Additionally, a unit mentioned offhandedly in "Killing Time" is called Perseus. It seems Cutter has a fondness for Greek Myth.

"The Reason You Suck" Speech:

Lovelace

gives a brutal one to

Kepler

in "Desperate Measures."
The Unapologetic:

Hilbert

seems to really believe his actions have been for the best, even when said actions have included murder.

Hilbert

: All right. Let us expedite this pointless conversation. My name is

Alexander Hilbert

. I have attempted to murder everyone in this room.

Dr. Hui, Officer Lambert, Doctor Fourier, Rhea

, I killed all of them. If this situation were the same, I would kill all of them again.

They Look Like Us Now:

The Dear Listeners can replicate crew members, even down to things like memories and emotions.

Three Laws-Compliant: Played With with Hera. Although she is not malicious, and genuinely seems to care about most of the crew (especially Eiffel, Minkowski, and

Maxwell

), we also know that she enjoys looking for loopholes in the very programming that prevents her from harming people, has attempted twice to exploit these loopholes and

kill Hilbert

. She has also apparently made attempts to override this programming completely, not because actually wanted to kill anyone, but because she wanted to know whether she could.
Title Drop: All of the episodes are named in this manner.
Token Evil Teammate: While none of the members of the Hephaestus crew could be considered particularly terrific human beings, Hilbert is the most ruthlessly amoral and conniving of the lot.

Hilbert was this to the previous Hephaestus crew as well.

Jacobi and Maxwell

also seem to get along with the protagonists quite well on some occasions, even when it's abundantly clear that they would kill everyone if given the order.

To the Pain:

Kepler

threatens Eiffel and

Lovelace

with a number of nasty-sounding devices.
Tyrant Takes the Helm:

Kepler, who outranks Minkowski, takes command of the Hephaestus.

Uncoffee: Made with seaweed, apparently.
Unnecessarily Large Vessel: The Hephaestus.

Presumably because Phase Two requires additional personnel.

Unreliable Narrator: Eiffel, especially in early episodes.

In "All Things Considered," Eiffel, Minkowski, and

Jacobi

are all this, as all of them tell obviously untrue stories about what happened to

Kepler's whiskey.

Unusual Euphemism: Knocking

Maxwell and Jacobi

unconscious is referred to as "popping the weasel."

When Cutter threatened to reprogram Hera, he referred to it as "pulling bricks out of the Jenga tower."

Villain Episode: A number of the mini-episodes. "Rebranding," "Things That Break Other Things," and "Language Mapping" show

Hilbert, Jacobi, and Maxwell's

recruitments, respectively, while "Kansas" shows us

Kepler's

promotion. We also hear from Rachel and Mr. Cutter in "Meanwhile."
Villainous Friendship: Jacobi and Maxwell very obviously care for each other. Jacobi sounds terrified when Maxwell gets trapped in one of the extraneous rooms and almost dies because temperature control is out. Maxwell, for her part, is absolutely devastated when they have to let the second Jacobi outside the module die in "Time To Kill".

Cutter and Pryce also qualify. Despite being the series resident Big Bads, they are shown to very obviously and openly care about each others safety and respect each others input, a privilege Cutter extends to no one else.

Villain Has a Point:

Hilbert's Decima Project

could have been legitimately beneficial to humanity, had he been able to complete it.
Villainous Rescue:

Kepler and the SI5 crew

save Eiffel from dying in deep space during "Mayday."
Vitriolic Best Buds: Eiffel and Minkowski seem to be headed this way as of season 2. They're not exactly clashing less than they used to, and they still bug the crap out of the other person, but there's a much stronger sense that they've got each others' backs when the going gets tough.
Walking Spoiler:

Isabel Lovelace

The introduction of SI5

in Season 3 means that

half the cast now consists of people you can't talk about without spoiling something.

"Well Done, Son" Guy:

Jacobi's loyalty to Kepler

is probably at least partially daddy issues.
Well-Intentioned Extremist:

Lovelace. Hilbert

may also qualify.
Wham Episode:

"Minkowski Commanding" becomes this at the end. Captain Lovelace is alive.
"Deep Breaths" becomes one when

Hilbert reveals his true colors, takes control of Hera, and tries to kill Minkowski and incapacitate Eiffel.

"Lame-O Superhero Origin Story" and "Do No Harm" have a two-fer. The former

has the Decima virus in Eiffel's bloodstream come out of dormancy and serve as a cliffhanger for "Do No Harm".

The latter sees

the star suddenly, abruptly shift color.

"Sécurité" also qualifies.
"Memoria" as well.
"Desperate Measures":

At least three people are dead, the ship is blown half to hell, and Kepler has gone off the deep end.

"Dirty Work": Eiffel thinks he's figured out what

The Dear Listeners

want, and at the end of the episode he

jumps into the star.

"Watchtower":

Eiffel has a direct conversation with one of the Dear Listeners and finally learns their plan: they travel the universe forming alliances with races that have new technologies, but often destroy those they dislike. Fortunately they like humanity for one invention in particular: music. Also, the station has been taken over by Cutter, who is now actually on board there.

Wham Line:

"Hello, does anyone copy? This is Douglas Eiffel aboard the USS Hephaestus station. Please respond."

"Commander, he's not showing up on any of my scans. He's gone."

"The court finds the defendant, Douglas Fernand Eiffel, guilty on one count of kidnapping and three counts of child endangerment."

"That's not Captain Lovelace, Eiffel. You've never met Isabel Lovelace. She has been dead for a very, very long time."

Cutter: Listen to the smart lady, Doug. Everything's going to be just fine. After all, I'm here now.

From "A Place for Everything"

Cutter: Carter was fun though, I may bring back some of him for the next me.

From "Terms and Conditions":

"Long story short? The end of the world, Minkowski. The end of the world."

A happier one from "Brave New World":

Minkowski: But...but how did...oh...did he do it? Eiffel got us on the Urania?

Jacobi: Oh please, what's a guy gotta do to get some credit around here?

What, Exactly, Is His Job?: Eiffel gets a lot of this. He is quite skilled with the radio equipment and is often an emotional center, but he can also be lazy, scatterbrained, and not very knowledgable about the station. His feelings of uselessness as a result are a major focus of the live show.
What Measure Is A Nonhuman: This question is pretty thoroughly explored with Hera, who is clearly a person, but is limited by her programming and not always treated as a person.

Specimen 34, AKA the "Plant Monster", starts as a lab experiment that got out of control and mostly survives by being better at traveling through crawlspaces and air vents than any of the crew, and finding dead zones where Hera can't track it. After spending weeks trying to hunt it, Minkowski discovers

that all it wants to do is build a comfortable nest for itself and be left alone. Then one of the first things Kepler does is has that entire part of the station destroyed to kill it.

Further explored after the reveal that

Lovelace is a clone created by the Dear Listeners, and the "real" Isabel Lovelace died years ago.

What the Hell, Hero?: Eiffel's reaction to

learning that Minkowski, Hilbert, and Lovelace planned to overthrow SI5 with napalm.

Hera to Minkowski after she

shoots Maxwell.

Whole Episode Flashback: There is a series of bonus episodes showing how all of the characters got recruited by Goddard.
Who Would Want to Watch Us?: Eiffel is surprised to hear that people are listening to his logs.
Why Did It Have to Be Snakes?: Eiffel's crippling fear of spiders is one of the central elements of the plot in "Extreme Danger Bug."
Wrongly Accused: Subverted. Minkowski assumes that

Eiffel was wrongly convicted of kidnapping and child endangerment

, but it turns out that she doesn't even know the worst of it.
You Are Better Than You Think You Are: Minkowski's speech to Hera in "Let's Kill Hilbert."

Hera: I can't. I can't do anything. I can't find the commands. The old me could've done this but now, after what he did to me, I just can't.

Minkowski: Listen to me, Officer. You are crew of this ship. If Eiffel dies, it's because he trusted you, and you went behind his back. Do you want that?

Hera: No!

Minkowski: Then fix it.

Hera: Have you been listening? I-

Minkowski: Can. You are the smartest person I have ever met, Hera. Focus that intelligence, and save our moron.

You Are Not Alone: For as dark, isolated, and paranoid as Wolf 359 can be, found family and the abilities of very different people to get each other through difficult situations are major themes.
You Are Number 6: Before being granted a new designation and put into service, A.I. units are referred to by number. Hera was Unit 214.

Dr. Pryce: "Hera?" Ugh, honestly, Marcus. You and your names.

You Can't Go Home Again:

The original Hephaestus crew that Lovelace was captain of was never supposed to make it out alive, and it seems the same of the current crew.

You Just Had to Say It: Hilbert to Eiffel in "The Empty Man Cometh"
You Have Failed Me: Cutter threatens to have Rachel pushed out a window should she fail to deliver some reports in time. Judging by the fact that we hear from her later, perfectly healthy if annoyed, he did not follow through on this threat.

In "Desperate Times," when important systems start failing just before the contact event,

Kepler

goes OFF on

Jacobi and Maxwell

.

Kepler

: Answer correctly, and you win...Jacobi's job! Jacobi's room! And a lovely set of steak knives, although you'll have to pull those out of Jacobi's incompetent corpse.

You Watch Too Much X: Eiffel has watched too much everything.