List of all main characters in Gungrave (MAJOR Spoilers for both the video game series and the anime adaptation!)
---
open/close all folders
Brandon "Beyond the Grave" Heat
Brandon "Beyond the Grave" Heat
Voiced by:
Tomokazu Seki
(JP),
Kirk Thornton
(EN; Anime Adaptation and
Gungrave VR
), Chris Cook (EN;
Gungrave: Overdose
), Rafael Rivera (SP; Anime Adaptation)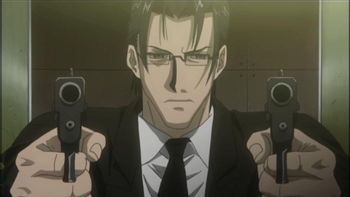 "There is one thing I know for certain. To protect is not to betray. Never betray. Never."

The roar of an anguished soul terminates everything that exists as it turns into a rave of bullets...
As Brandon
Brandon is the protagonist of both the 'Video Game/Gungrave series and the anime television adaptation. A quiet, passive but gentle young man, he was originally a petty crook who was a prominent member of Harry MacDowell's gang, Harry also being Brandon's closest friend since childhood. Though they lived in a crime-ridden slum called "Desolation Alley", Harry's gang was considered the most good-natured. After the loss of their three best friends, Brandon and Harry joined the Millenion Syndicate and worked their way up through the ranks. Brandon was often favored by Big Daddy, the syndicate's leader, and was trained to become one of Millenion's most powerful sweepers (assassins/hitmen). Brandon eventually chose to distance himself from Maria, the woman who he had strong romantic feelings for, as he felt unworthy of being with her, due to his profession as an emotionless killer. Meanwhile, Harry becomes drunk off of the power he had gained, and quickly desired more, once he discovered and took over "The Necrolization Project"—an otherworldly technology that reanimates the dead as "necrolizers" ("Deadmen" in the games) which are undead, near-invincible soldiers.
Brandon appeared to have a promising future, but during an elevator ride with Harry, his fate was ultimately sealed when he could not side with Harry's plan to kill Big Daddy and ensure Harry's position as the leader of Millenion. Seeing as how Brandon could not bring himself to kill his friend for betrayal, Harry murders Brandon in cold blood by shooting Brandon in the chest multiple times, and finishing him off with a bullet to Brandon's left eye. However, Dr. Tokioka, one of the major members of the Necrolization Project, decides to use the procedure on Brandon's corpse to revive him.
As "Beyond The Grave"
Brandon Heat, necrolized and reborn in the form of a 3rd Generation Model Deadman, the semi-titular "Gungrave". He was "sealed away" in a sleeping state for over ten years, until he is awakened and tasked to protect a young girl named Mika, the daughter of Big Daddy and Maria. In his resurrected form, Grave is taller, sports some spiffy purple cowboy-esque duds, missing his left eye (a scar now in its place), and his remaining eye is a distinct yellow/amber. Upon reclaiming his pair of guns, he goes out into the city to take down Harry and the syndicate.
His trademark weapons are a pair of large handguns: the Left Head and Right Head; together they are called "Cerberus". His secondary weapon is a large "Coffin" , a device that is stocked with heavy weapons—a machine gun and a missile launcher/bazooka. This Coffin can also be used as a melee weapon or a shield. In O.D., he receives an enhanced version of his Coffin thanks to Spike, the "Death Hauler".
Grave still retains his status as an expert gunfighter, and possesses all the strengths given by necrolization, but these gains carry weaknesses as well. He was given a "body built for slaughter", but it meant he had to give up his "soul" in exchange—his memories and his emotions. In the anime, Grave suffers "functional disorder" when trying to regain his memories, in which he gets a massive headache and other pains. Due to Grave being in a "dead" state, he has to undergo specially-prepared treatments that periodically refresh his entire body's supply of blood. If he is ever deprived of blood, his body will degenerate (his skin will harden, literally crack and fall apart) rapidly and eventually cease to function.
Often known as "The man nicknamed Death", to most of the characters Grave is a relentless and unforgiving killer, whose body itself is a (un)living bioweapon. However, he's also a selfless, caring man who remains loyal to Big Daddy and his family, even in death. To Mika, he's as much as a close friend and family to her as he is her faithful protector. While viewed as an "antique" by Harry and Garino, Grave continues to prove through sheer determination, his devotion to Mika (whom he's sworn to protect), and lots of heavy firepower, that he is, in the words of Billy, "the world's strongest Deadman".
In Overdose, Grave is the most balanced of the three playable characters. Although slightly slow in terms of movement speed, he makes up for it by being useful for any situation. His Demolition Shots (except the time-stopper/slow ones, those are all the same for all three characters) also seem to have slightly more power and range/area of effect than Juji's or Billy's shots.
---
In the anime canon, Grave (whose necro-rise/necrolize/necroraise is fading fast) and a dying Harry decide the only way they can truly be "free" is to kill each other, which they do.

However, if Grave indeed dies, it's likely to be caused by his Necrolyze wearing off.

In the video game series canon, this doesn't happen as Grave simply kills Harry and leaves the city with Mika, protecting her now his one and only concern. He remains in his undead state (there seems to be no way to "cure" him anyways, nor is there any indication that Grave wants to be human again) and still needs blood transfusions now and then while lucid. He is put into hibernation when his services aren't needed, as he's only supposed to be awakened in times of crisis.
Mika Asagi
Mika Asagi
Voiced by:
Tomoko Kawakami
(JP;
Gungrave (2002)
&
Gungrave: Overdose
),
Kumi Sakuma
(JP; Anime Adaption),
Kari Wahlgren
(EN; Anime Adaption), Renee Raudman (EN;
Gungrave: Overdose
), Mayra Arellano (SP; Anime Adaption)
"Have...I met you before? Dr. Tokioka told me...about you. That you're a friend of my mother..."
The only daughter of Big Daddy and Maria who had been living a normal life with her mother Maria and their butler Tokioka, until agents of Millenion came to their house. Barely escaping execution by Harry's minions, both Maria and Tokioka died protecting her. Injured, weary, and fearing for her life, she was given the Cerberus suitcase left to Maria, and one instruction: "Go to wherever he (Brandon) is." However, while she did manage to reach Dr. T.'s hideout, she sees that the man her mother knew is no longer Brandon—he is now the deadman called Grave. Her appearance and returning Cerberus to Grave had "awakened" him, finally allowing to him to bring vengeance to Harry and the Syndicate. As of Overdose, not only is she under the protection of Grave, she also acts as his caretaker and assistant, being his only blood donor (which has made her physically weak but she silently bears it because it's one of the few things she can do to sustain Grave's body).
She always felt that she only causes trouble for Grave, and wonders why he would go to such great lengths to protect her, but Grave often pats her on the head, as if to remind her that she is his "special person" and that she is not a burden—she is a living memento of the people that Grave knew and loved when he was still known as Brandon. She means everything to him, and is the only person who can truly understand his gestures and expressions. Though not related by blood, Mika knows that they are a family. After slowly being overtaken by Seed infection, she and Grave are given a counter-antidote, which Grave administers to Mika. As she falls asleep, Grave breaks his usual silent mannerisms by gently telling her that she must live. In Gungrave: G.O.R.E., she founds and leads an organization called El-Al-Canhel dedicated to destroying Seed once and for all.
---
Juji Kabane
Juji/Jyuji Kabane
"You may think the dead feel no pain, but you're wrong. It's just the opposite. No matter how much pain we feel...we can never look forward to the release of death."
Appears as a playable character in Overdose. Juji is a skilled swordsman, and he is a necrolizer like Mika's guardian, Grave. Juji is loud, rude, and has a mind that operates like a runaway train. Claiming that diplomacy isn't his strong point, he is also blind. But with the loss of his sight, he gained an extremely acute sense of smell. He resembles a patchwork doll—he is covered with stitches and wears a tattered coat. When in battle, a large flame perpetually burns on his shoulder. It's not certain how he got this flame or how he was necrolized, however Juji reveals himself to be a failed test subject. He had died while on the job and Garino forced him through several truly horrible experiments—being conscious while his body was cut open, and prodded. Juji was infused with a prototype Seed and "died" in agonizing pain, only surviving by using a special breathing technique. Even now he is constantly meditating to keep his deadman half and his seed half in balance. While he can override the need to have his blood refreshed, he is almost always in pain—but if he ever stops his meditation, it would mean a fate worse than death. He wanders the earth with his cohort Billy, seeking to take revenge on Garino.
He is the younger brother of Bunji Kugashira.
In combat, Juji dual-wields a pair of red Gun Blades, "Tsumuji" and "Hayate". He is fast and light on his feet, deftly slicing his opponents to ribbons using the "Kuchiba Style". His proficiency with melee combat means his long-range attacks suffer quite a bit. He cannot charge his guns the way Grave and Billy can, but he can charge his swords to perform a powerful series of sword attacks.
Voiced by Hiroaki Hirata and Cam Clarke.
---
Rocketbilly "Billy" Redcadillac
Rocketbilly Redcadillac
"She's a lady, and she's sad. That means she needs to be treated with kindness. Real men have a duty to supply that kindness. Period. No exceptions."
Also first appearing in Overdose, Billy is an outlandishly dressed rockabilly ghost (???), possessing an electric guitar that Juji found while traveling. He is Juji's best friend, and supposedly is a ladies' man. He has much admiration for his grandmother, and strives to be kind to every woman he meets. Why he wanders the world as a ghost is unknown. He plays the goofball foil to Juji's "straight man" persona, and while Billy has the air of a joker, he really is quite kind and earnest. He also holds some inner sadness, as being an incorporeal spirit means that he cannot hold a lady in his arms.
Billy shreds through his foes using his guitar, the "B.L. 20,000V" to generate lightning bolts with slight homing capability and firing them. His melee attacks are weak, but his long-range attacks are the best of the three. Billy is also unable to dive laterally as well as having lower endurance against large crowds of enemies.
Voiced by Hōchū Ōtsuka and Chris Cook.
---
El-Al-Canhel
An organization in
Gungrave: G.O.R.E.
led by Mika that's dedicated to eradicating the drug SEED, and destroying the Raven Clan, the mafia organization that is its primary handler, which Mika has Grave, under her will, to do the job. It was founded by Mika and a small organization.
---
In General
Quartz
Cheni "Quartz" Angel
A young woman who is granddaughter of Richard Wong from
Gungrave: Overdose
and had her left arm infected with Seed. She formed El-Al-Canhel with Mika to eliminate the drug.
---