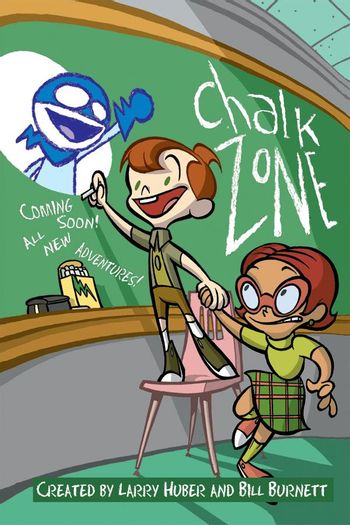 ChalkZone (1999-2008) is a Nickelodeon cartoon that, like fellow Nicktoon The Fairly Oddparents, began as a series of shorts on Oh Yeah! Cartoons. Despite similarities with a former Pinwheel (now Nickelodeon) cartoon with the same premise, Simon in the Land of Chalk Drawings, creator Bill Burnett has confirmed that ChalkZone is not an considerable spiritual successor.
The show centers on a shy, daydreaming kid by the name of Rudy Tabootie, who one day finds a piece of magic chalk and accidentally discovers a world hidden beyond his teacher's chalkboard as a result. In this world, ChalkZone, chalk drawings that have been erased from all chalkboards live together as now sentient beings; among them is an early creation of Rudy's, a small blue Chalkzoner named Snap.
The original Oh Yeah! Cartoons shorts featured a fairly young Rudy, aged eight years old. The series takes place a few years later, aging Rudy to ten years old and introducing a new female Latina character in Rudy's girlfriend/love interest, Penny Sanchez, who is the only person he trusts with knowledge about ChalkZone. In addition to their usual adventures in the magical world, the trio of Rudy, Snap, and Penny occasionally fight the various threats within a chalk zone, in addition to keeping the place safe from being found out by anyone else.
---
This show contains examples of:
Black Bead Eyes: Rudy, Skrawl, chalk people and many human characters (with the exception of Mr. Wilter) have colored dot eyes.
Body Horror: In "Skrawl's Brain", Rudy's plan of saving the day involves giving said brain a body of it's own. However, to make it work, he has it's eyes, nose, ears, and mouth disconnected and, once the brain was inside, reconnected in the wrong spots. The end result is just as horrifying as you'd think.
Captain Colorbeard: The episode "Tiny Pirate Problem" featured a pirate named Red Facial Hair as the main antagonist.
Catchphrase: Snap's "Oy Coloy!" whenever something goes wrong.

Also: "RUDY! YOU GOTTA DRAW SOMETHING!" Usually Snap, sometimes Penny.

Chekhov's Gun:

In "Gift Adrift", the safety pin bow tie for Rudy's birthday present for his dad (a vacuum) ended up

preventing Chalkzone's destruction from said vacuum

.
In "Hole in the Wall", while in Chalkzone, Vinny goes around taking pictures with his digital camera; when Rudy is spying on him from a cliff, he's in the middle of taking one of a stick figure. At the end of the episode, when trying to prove to his friend about what he saw, he pulls up said picture... and Rudy can be seen from the cliff.
In "The Quicksand Man", the knowledge that scraping a chalkboard in the real world sounds LOUDER AND WORSE in Chalkzone is used to defeat the title character.
"Snap vs. Boorat" begins with Rudy using a spray to prevent a chalk drawing he made from smearing his chalkboard. Snap later uses the spray to immobilize and defeat Boorat.
Cloudcuckooland: ChalkZone itself can be a very nonsensical place, considering it's a realm of sentient erased chalkboard drawings.
Continuity Cavalcade: The music video segment "I Need a Song" at one point features a list of songs from previous episodes.
Continuity Nod:

Some characters return for another episode after their debut, such as the Doofus clones of Rudy and Penny.
"Disarmed Rudy" features a callback to "Pumpkin Love" when Jacko describes how Rudy "stole his pumpkin bride", which is even accompanied by clips from that episode.

Create Your Own Villain: Literally with Skrawl, who is a drawing that Rudy tried drawing for someone's birthday party only for it to be hijacked by a room full of kids and made into the mismatched creature he ultimately became.

Also, Rudy's blunder where he fashioned a Craniac 4 to make Craniac 3 go into cryofreeze, only to have 4 prove to be an even nastier threat.
Creepy Jazz Music: The recurring villain Skrawl has a short jazz tune as his Villain Song. The song also doubles as a leitmotif for him, as he sings the tune in all of his appearances, but with different lyrics each time.
Didn't Think This Through:

In one episode, Rudy thought of hiding his father's birthday present, which was an automated vacuum cleaner in Chalk Zone. Considering how vacuum absorbs any type of dust, this idea goes as well as you would expect.
In "Future Zone", Rudy sees that every time a new Craniac model comes along, it gets cryogenically frozen as an obsolete model on display, while the new guy takes charge of the old Craniac's facilities. To foil Craniac 3's plot to steal Rudy's magic chalk, he simply draws a Craniac 4. The new robot promptly freezes Craniac 3... then it wants to steal the chalk. Yeah, Rudy actually made a new villain even smarter than the previous one.
Flying Brick: Generic Man, so named because he's the superhero kids draw most often.
Friend Versus Lover: A Downplayed Trope. Snap and Penny are amiable enough to each other but there is some tension between the two once Penny starts joining him and Rudy in ChalkZone. He sometimes treats her like a third wheel hanging around where she's not wanted and Penny in turn isn't above taking the occasional potshot at Snap.
From Nobody to Nightmare: Terry Bouffant started off as a generic reporter who sometimes got caught in the ChalkZone-related messes that would occur in the real world, such as the invasion of the wiggies. But in Indescent Exposure, she not only has figured out ChalkZone existed without having actually to see it, which was the case with Vinnie Ratone, but she kidnapped Snap, dragged him to a news station to be used to prove ChalkZone existed, discovered the magic chalk, trapped Snap back into ChalkZone before he could stop her, and nearly exposed ChalkZone. In her next episode, she teams up with Vinnie and they create Boorat, who succeeds in stealing the magic chalk and the only reason he was unable to complete his mission because Snap managed to constantly prevent him from going outside where Terry and Vinnie were waiting for him.
Gigantic Gulp: Snap's jinglebelly soda. Maybe it's used to illustrate how small Snap is, maybe just played off for laughs. He's never been seen with a jinglebelly soda that he can fit in one hand.
Gory Discretion Shot: Used in "The Big Blow Up" when Biclops shows Rudy, Penny, and Snap what happens when Balloonemia takes its toll.
Interspecies Romance: The episode My Big Fat Chalk Wedding gives us Bobby Sue, a zoner created by a little girl who developed a crush on Rudy after he helped her with her project. Bobby Sue shares this crush and constantly pursued Rudy in the episode, trying to get him to marry her.
Justice by Other Legal Means: Reggie is a bully who often gets away with it, but gets blamed for things Rudy and Penny do in the Chalk Zone that wind up affecting the normal world.
Kick the Son of a Bitch: At the end of "Snap Builds His Dream House". Rudy spent the entire episode trying to make Snap a house that fit all of his (and the others) suggestions... only for Snap to be disappointed at the resulting "hodgepodge". Rudy, at this point completely fed up, decides to send it out to sea... in a barge he drew holes in.

However, Snap actually likes it after it gets sunk (since it's now an island homenote ). But, when Snap tries to ask Rudy to draw him a bridge so he can get to it, Rudy just draws some bandages over Snap's mouth.

Kid Hero: Snap, who's supposed to look like a tough superhero... and ended up looking like Hello Kitty. Rudy also counts seeing as he's in 5th grade.
Kill It with Water: Though not necessarily water, anything chalk related can be erased by something liquid.

A horrifying example comes from "

Howdy Rudy

": the titular character (a sentient chalk dummy) was licked to death by a dog.

Not really to death as the end reveals this sent him back to Chalkzone.

A really close example was "Purple Haze", when Penny and Snap (while at a comic book convention) wandered into a water gun fight.
Played with in "Snap Builds a Dream Home", which takes place entirely in Chalkzone. Rudy decides to send the house he drew for Snap (who rejected it) out into the Wait n' Sea. The only part that remains above the water is the birdhouse portion.
Laser-Guided Karma: At the end of "RV Having Fun Yet?", the titular RV winds up crashing onto a cruise ship. The very same cruise ship that the car dealer that "sold" it to Snap was on, in exchange for Snap's cruise ticket. It's worth pointing out that the RV sings nonstop.
Manchild: All the adults in Water Water, Everywhere. Justified in that Rudy accidentally drew a portal into the Wait N' See and the water somehow made the adults child-like.
Meaningful Name: Skrawl's name comes from the fact that he was "scrawled" onto a chalkboard.
Mind Screw: Ms. Tweezer, when Rudy releases the inhabitants of Chalkzone against her, experiences one.
Reality Warper:

Variation: "The Amazin' River"note sees Rudy create a giant river in Chalkzone merely by drawing on Snap's map, connecting a group of separate waterways together.
The conflict of "Taffy" is ultimately resolved when Penny, back in the real world, draws out the outline of a cove by Chalkzone City and erases it, causing said cove to then appear in the area of the taffy.

Reality Warping Is Not a Toy: Rudy is just a step short of being near omnipotent in ChalkZone and also recognizes how dangerous that kind of power could be if he went overboard. He keeps himself limited to creations that are either harmless or useful for avoiding trouble, won't create any living creations unless it's absolutely necessary, and the times he does try to use ChalkZone for personal gain are typically born of hasty panic or innocent lack of foresight. He still sometimes need to be reminded how big a responsibility it is to use the magic chalk.
Recycled Soundtrack: Seasons 1, 2, and the first half of 3 tended to reuse their songs over and over again. Not only that, some background tracks were reused from The Fairly Oddparents. This is no longer the case starting with "Double Trouble".
Three Shorts: Most episodes consist of this format: an 11-minute short, a 7-minute short, a 3-minute short starring Snap, and a 1-minute music video.

And sometimes, that Snap segment is ALSO a music video, so sometimes episodes are half plot, half song.
And in one case in season four, the music video was replaced with another short.

Time Skip: Played with: when ChalkZone went to series, the first two Oh Yeah! Cartoons shortsnote were stated to have occured when Rudy was 8, with the TV series itself starting up when Rudy is 10.
Took a Level in Badass: Drawing wise, Rudy's first ever drawing was Blocky in 1st grade. 2nd grade? He made an old woman in a bathtub and by fifth grade, his mom stated that it took him only four weeks for the newspaper to get his comics published whereas the mom took four years for a single article.
Too Dumb to Live: Reggie Bullnerd gets F's all the time and spells "cow" with a "K."

Now honestly... who thought creating Craniac 4 would solve Rudy's problems?

Totem Pole Trench: "Teacher's Lounge" had Rudy and Snap try to infiltrate a meeting of chalk drawings of teachers by having Rudy stand on Snap's shoulders and wear glasses, a fake nose and mustache, and a graduation cap and gown.
You Mean "Xmas": The Christmas Episode contains a song where the characters mash the names of all the winter holidays into one big name.

"Merry Chris-hanukkah-mas and a Happy Rama-Kwanzaa-dan."
---