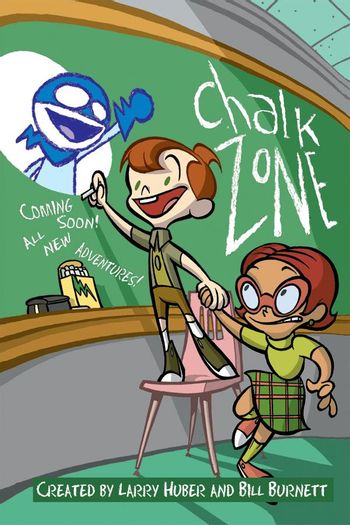 ChalkZone (1999-2008) is a Nickelodeon cartoon that, like fellow Nicktoon The Fairly OddParents!, began as a series of shorts on Oh Yeah! Cartoons. Despite similarities with a former Pinwheel (now Nickelodeon) cartoon with the same premise, Simon in the Land of Chalk Drawings (2002), creator Bill Burnett has confirmed that ChalkZone is not a Spiritual Successor.
The show centers on a shy, daydreaming kid by the name of Rudy Tabootie, who one day finds a piece of magic chalk and accidentally discovers a world hidden beyond his teacher's chalkboard as a result. In this world, ChalkZone, chalk drawings that have been erased from all chalkboards live together as now sentient beings; among them is an early creation of Rudy's, a blue superhero-like ChalkZoner named Snap. They are frequently accompanied by Rudy's best friend Penny Sanchez, who is the only person he trusts with knowledge of ChalkZone's existence. In addition to their usual adventures in the magical world, the three friends occasionally fight the various threats within ChalkZone, in addition to keeping the place hidden away from any prying eyes.
---
This show contains examples of:
Black Bead Eyes: Rudy, Skrawl, chalk people and many human characters (with the exception of Mr. Wilter) have colored dot eyes.
Body Horror: In "Skrawl's Brain", Rudy's plan of saving the day involves giving said brain a body of it's own. However, to make it work, he has it's eyes, nose, ears, and mouth disconnected and, once the brain was inside, reconnected in the wrong spots. The end result is just as horrifying as you'd think.
Didn't Think This Through:

In one episode, Rudy thought of hiding his fatherís birthday present, which was an automated vacuum cleaner in Chalk Zone. Considering how vacuum absorbs any type of dust, this idea goes as well as you would expect.
In "Future Zone", Rudy sees that every time a new Craniac model comes along, it gets cryogenically frozen as an obsolete model on display, while the new guy takes charge of the old Craniac's facilities. To foil Craniac 3's plot to steal Rudy's magic chalk, he simply draws a Craniac 4. The new robot promptly freezes Craniac 3... then it wants to steal the chalk. Yeah, Rudy actually made a new villain even smarter than the previous one.
Downer Beginning: "That Sinking Feeling" is a variation if you think about it. See Fridge Horror.
Dual Wielding: In "Skrawl's Brain", Rudy invokes this in his battle with Skrawl (and his giant (robot) brain) by snapping his piece of magic chalk in two.
Early Installment Character-Design Difference:

The first two Oh Yeah! Cartoons shorts depicted Rudy Tabootie wearing a long-sleeved shirt in addition to having a rounder head, a smaller nose, more prominent cheeks and a clearer distinction between his head and neck.
Snap had darker colors in the Oh Yeah shorts.

Easily Forgiven: Rudy and Snap forgive Penny a little too quickly for her

Chalk Queen antics

, especially considering that her plan nearly resulted in Snap dying.
Embarrassing First Name: According to a collectible e-card on Nick.com, Rudy's first name is short for Rudolph.

It has been noted that some people think Rudolph is significantly less embarrassing than Rudy, to say nothing of rhyming with your last name.. or the last name itself.
BEANIE BOYS, BEANIE BOYS, WE'RE THE BOYS THAT SKRAWL EMPLOYS. HA HA HA HA HEE HEE HEE HEE HO HO HO HO HA.

Embarrassing Middle Name: Reggie Bullnerd's full name is long and embarrassing. Rudy had to find a chalk creation of Reggie's in one episode that Reggie had created to frame Rudy, finding out Bullnerd's full name from it and using it to blackmail Reggie into admitting his guilt.
Gigantic Gulp: Snap's jinglebelly soda. Maybe it's used to illustrate how small Snap is, maybe just played off for laughs. He's never been seen with a jinglebelly soda that he can fit in one hand.
Gory Discretion Shot: Used in "The Big Blow Up" when Biclops shows Rudy, Penny, and Snap what happens when Balloonemia takes its toll.
Laser-Guided Karma: At the end of "RV Having Fun Yet?", the titular RV winds up crashing onto a cruise ship. The very same cruise ship that the car dealer that "sold" it to Snap was on, in exchange for Snap's cruise ticket. It's worth pointing out that the RV sings nonstop.
Reality Warper:

Variation: "The Amazin' River"note sees Rudy create a giant river in Chalkzone merely by drawing on Snap's map, connecting a group of separate waterways together.
The conflict of "Taffy" is ultimately resolved when Penny, back in the real world, draws out the outline of a cove by Chalkzone City and erases it, causing said cove to then appear in the area of the taffy.

Reality Warping Is Not a Toy: Rudy is just a step short of being near omnipotent in ChalkZone and also recognizes how dangerous that kind of power could be if he went overboard. He keeps himself limited to creations that are either harmless or useful for avoiding trouble, won't create any living creations unless it's absolutely necessary, and the times he does try to use ChalkZone for personal gain are typically born of hasty panic or innocent lack of foresight. He still sometimes need to be reminded how big a responsibility it is to use the magic chalk.
Recycled Soundtrack: Seasons 1, 2, and the first half of 3 tended to reuse their songs over and over again. Not only that, some background tracks were reused from The Fairly OddParents!. This is no longer the case starting with "Double Trouble".
Three Shorts: Most episodes consist of this format: an 11-minute short, a 7-minute short, a 3-minute short starring Snap, and a 1-minute music video.

And sometimes, that Snap segment is ALSO a music video, so sometimes episodes are half plot, half song.
And in one case in season four, the music video was replaced with another short.

Time Skip: Played with: when ChalkZone went to series, the first two Oh Yeah! Cartoons shortsnote were stated to have occured when Rudy was 8, with the TV series itself starting up when Rudy is 10.
Took a Level in Badass: Drawing wise, Rudy's first ever drawing was Blocky in 1st grade. 2nd grade? He made an old woman in a bathtub and by fifth grade, his mom stated that it took him only four weeks for the newspaper to get his comics published whereas the mom took four years for a single article.
Too Dumb to Live: Reggie Bullnerd gets F's all the time and spells "cow" with a "K."

Now honestly... who thought creating Craniac 4 would solve Rudy's problems?

Totem Pole Trench: "Teacher's Lounge" had Rudy and Snap try to infiltrate a meeting of chalk drawings of teachers by having Rudy stand on Snap's shoulders and wear glasses, a fake nose and mustache, and a graduation cap and gown.
You Mean "Xmas": The Christmas Episode contains a song where the characters mash the names of all the winter holidays into one big name.

"Merry Chris-hanukkah-mas and a Happy Rama-Kwanzaa-dan."
---