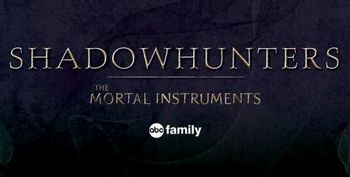 Shadowhunters is a Freeform series based on the novel series The Mortal Instruments by Cassandra Clare. It was the second attempt to adapt the books after the ill-fated film series.
Eighteen-year-old Clary Fray finds out on her birthday that she is not who she thinks, rather, she comes from a long line of Shadowhunters — human-angel hybrids who hunt down demons. When her mother Jocelyn is kidnapped, Clary is thrown into the world of demon hunting with mysterious Shadowhunter Jace and her best friend, Simon. Now living among faeries, warlocks, vampires and werewolves, Clary begins a journey of self-discovery as she learns more about her past and what her future may hold.
The show stars Dominic Sherwood as Jace Herondale and Katherine McNamara as Clary Fray. Also cast are Alberto Rosende as Simon Lewis, Emeraude Toubia as Isabelle Lightwood, Matthew Daddario as Alec Lightwood, Isaiah Mustafa as Luke Garroway, Alan van Sprang as Valentine Morgenstern, and Harry Shum Jr. as Magnus Bane.
Like the film, the show was produced by Constatin Film and McG (Joseph McGinty Nichol), but with Ed Decter as showrunner. A 13-episode straight-to-series order was announced on March 30, 2015, the show began filming in Toronto, Ontario on May 25th, 2015, and the series eventually premiered on January 12th, 2016. After three seasons, the show was cancelled in 2018, but an additional two episodes were ordered to give closure.
Teaser trailers can be viewed here
and here
. Officially released sneak peaks of the first episode can be viewed here
and here
.
Outside of the United States, new episodes are available worldwide on Netflix.
---
Tropes
---