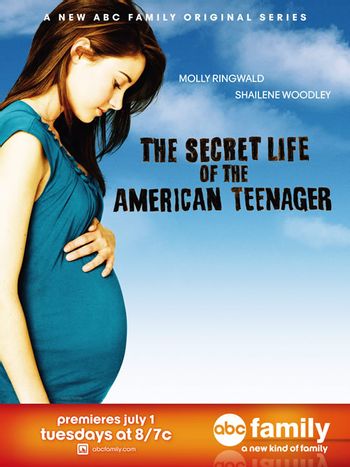 A teen drama on ABC Family mainly focusing on six teens in high school, one of whom is pregnant. Created by Brenda Hampton of 7th Heaven fame. In Development Hell for ten years, it finally got picked up by ABC Family. It ran from 2008 to 2013.
---
This series provides examples of:
With Friends Like These...: No one in this series are true friends. Most of the series is the characters constantly stabbing each other in the back.

But notable mentions are: Adrian and Grace - Adrian had oral sex with Jack and during their "friendship" she constantly slept with Ricky when Grace was dating him (though it can be argued Ricky was Adrian's love interest first) and slept with Ben knowing Grace had a huge romantic interest in him. She also called Jack, Grant and Daniel to have sex the night she felt Grace betrayed her and stopped being friends in "Flip Flop".
Ben and Ricky - Ben later had sex with Adrian in Season 2 and they all later found out she was pregnant in Season 3 as a result. Ricky later goes after Amy when Amy stops speaking to Ben. Ben constantly talks trash about Ricky to the other characters and has told both Amy and Adrian that the are too good for him.
Ben and Henry: Ben's own childhood friend Henry has sex with Adrian - Ben's soon-to-be ex-wife and mother of his stillborn daughter at Jessie's Graduation Party. Ben also has sex with Alice shortly after he becomes friends again with Henry.
Amy and Adrian - These two were never true friends. Even though Adrian came to see Amy, Ricky and their son (John) in the hospital when he was born, when Adrian tried to befriend Amy, Amy made-out with Ricky and out of paranoia Adrian later had sex with Ben resulting in a pregnancy. And even though Amy held Adrian and cried with her when Mercy was stillborn, the girls went back to bad-talking the other and Adrian still pursued sex with Ricky later on.
Amy, Lauren and Madison - Madison and Lauren are directly responsible for spreading rumors about Amy/Ricky having sex and Amy's pregnancy. In episode 9, Lauren makes-out with Ricky during Amy's pregnancy. Madison has sex with Lauren's boyfriend Jessie the night of his Graduation Party.
On a sister's note - Ashley tries to have sex with John's father and Amy's later boyfriend — Ricky.

Would Hit a Girl: Bob Underwood.
Your Door Was Open: Frequently shows up. A notable example happened in the season one episode, "Maybe Baby" when nearly every regular character ended up in Amy's house, arriving in groups of two or three, just to tell her they would support her if she wanted to keep her baby. They have gotten better about it in later seasons (meaning it's more common to see people actually knock on the door and wait for someone to answer it) but it's not completely absent.
---