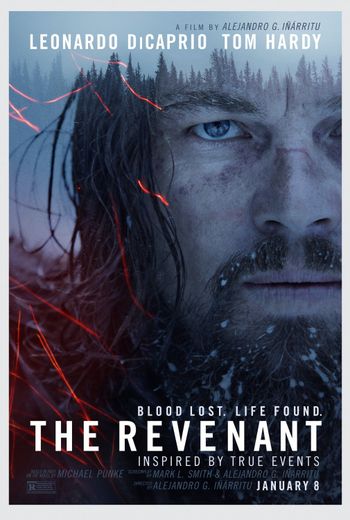 "I ain't afraid to die anymore... I've done it already."
— Hugh Glass
The Revenant is a 2015 Revisionist Western drama film directed and co-written by Alejandro González Iñárritu and based in part on the 2002 Historical Fiction novel of the same name by Michael Punke, itself inspired by the true story of Hugh Glass.
In the early 1820s, a fur-trapping expedition is attacked by Arikara(Ree) Native Americans when they are only days away from returning to their base of operations with a fortune in furs. Escaping with only a fraction of their original numbers, their frontiersman and guide Hugh Glass (Leonardo DiCaprio) decides that their best chance of survival will be to abandon their boat and travel overland to reach safety.
On the way, Glass is brutally attacked by a bear while on a hunting foray, and he is left behind with his son Hawk (Forrest Goodluck) and two members of the party to expire and be properly buried without slowing down the rest of the escape. John Fitzgerald (Tom Hardy), deciding that it is too dangerous to wait even for Glass to die, kills his son and convinces Jim Bridger (Will Poulter) that the Arikara are coming for them directly. He drags the still-living Glass into a grave — for the "burial" — and then leaves him for dead. Glass is able to survive through sheer force of will, and makes his arduous way back to their fort on a quest for justice, revenge, and redemption.
The film has become notable for its incredibly ambitious filming schedule, shooting on location in remote parts of the Canadian and South American wilderness and using only natural lighting for its cinematography. Ryuichi Sakamoto and Alva Noto composed the soundtrack, with additional contributions by Bryce Dessner.
The story of Hugh Glass had previously been put on screen, albeit with the names changed, in the 1971 film Man in the Wilderness.
The movie was given a limited release on Christmas 2015, then went wide in January 2016. The trailer can be seen here
.
---
This film provides examples of:
---