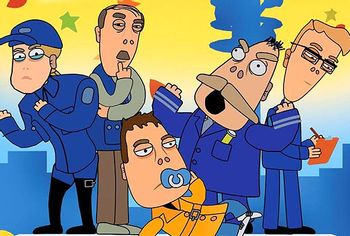 "Typical Finnish crime lacks premeditation, the motives behind it are petty at best and it's usually simply an awkward experience for both the victim and the perpetrator. The job of the police is to pick up the perps at home, then insult them until they break down in tears, gradually become better people, and stop screwing up their lives."
—Kyösti Pöysti.
Pasila is a satirical Finnish animated series about the daily lives of the policemen at the Pasila precinct in Helsinki.
The series' main character is Inspector Kyösti Pöysti, a highly self-centered, dysfunctional individual who is always sucking on a pacifier for unknown reasons. His unruly behaviour and unconventional methods while investigating crimes are often a source of ire for his boss, Rauno Repomies, an elderly police captain bordering on senility. Pöysti's colleagues include his former Police Academy classmate Neponen, a manly policewoman Helga who has anger management issues, and Desk Sergeant Pekka Routalempi, a dull little man who finds every little mundane thing "fascinating". Annoying TV presenter Juhani Kontiovaara also keeps butting in Pöysti's business, when in search of cheap thrills and other ways to improve his ratings.
Pasila became hugely successful due to its hilarious characters and slapstick humor, with six seasons running from 2007-2013. The sixth season was stated to be the last one, but a self-proclaimed Spin-Off called Pasila 2.5 started airing in February 2014, which ran for four seasons ending in 2016.
Episodes with English fansubs can be found from YouTube and there is also an official English dub of the series, known as Jefferson Anderson, with only the first two seasons having been dubbed into English.
There is a character page here.
---
Tropes:
---