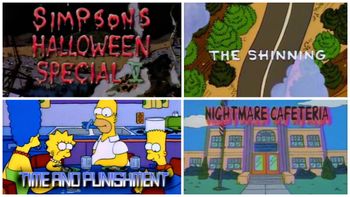 Original air date: 10/30/1994
Production code: 2F03
In this year's collection of frights:
The Shinning: When the Simpsons are summoned to care for Mr. Burns' winter resort, Homer comes down with a nasty case of Kubrick-esque cabin fever.
Time and Punishment: Homer goes back in time and causes a temporal butterfly effect for every prehistoric animal he kills.
Nightmare Cafeteria: After juvenile delinquency skyrockets and school lunch budgets fall, Springfield Elementary devises a grisly approach to solving both problems.
---
This episode contains examples of:
In general
The Shinning
Time and Punishment
Nightmare Cafeteria
---
Urge to trope... rising...
---