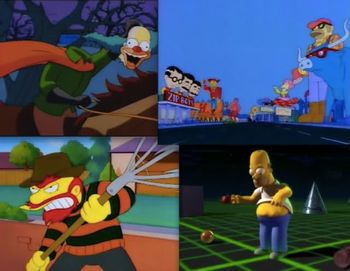 Original air date: 10/29/1995
Production code: 3F04
The opening features Krusty the Clown as the Headless Horseman. He throws his head at the camera, and the blood runs off to reveal words- The Simpsons Halloween Special VI. Then we cut to the Simpsons house, where the family drop from the rafters, hanged.
---
Attack of the 50-Foot Eyesores
Springfield is overrun by oversized advertising after Homer takes the Lard Lad statue's giant doughnut.
Nightmare on Evergreen Terrace
While Lisa and Bart are at school, Martin dies after falling asleep at his desk. Later, they find out from Marge that Groundskeeper Willie swore to kill the town's children in their dreams as revenge for being ignored while burning to death. Bart and Lisa at first try to stay up to avoid this, but they can't do it for long. Bart decides to take the fight to Willie in his dreams, while Lisa stays awake to wake him up if there's trouble.
Bart fights Willie, but the fight goes badly. Lisa appears to help him out. Bart's happy at first, and then realizes that if she's there, then she has fallen asleep, which she wasn't supposed to do. Willie attacks again, and the two are saved by Maggie and her pacifier. The next morning, it turns out that Willie has come back to life, but he's significantly less threatening than he was as a spirit. He leaves his gun on the bus and has to chase after it, while a Yakety Sax-style Simpsons theme song plays.
Homer³note
Patty and Selma are coming over, and Homer tries to hide. He goes for the closet, but the kids are already there. He looks under the rug, but that's where the pets are. He ends up hiding behind a bookshelf, and discovers that there's a portal in the wall behind there. Desperate to escape his in-laws, he goes through the portal, and ends up in a strange place where everything is depicted in CGI.
Homer explores his new surroundings, while the rest of the family is forced to deal with Patty and Selma. He tries yelling to see if anyone can hear him. They can (and he can hear them), but they don't know where he is. Come to think of it, Homer doesn't know where he is either. He's not in the linen closet (he doesn't see towels), and he doesn't seem to be in the shower. He also appears to be trapped wherever he is. Marge decides to call Ned, as he has a ladder.
Homer walks around in the place he's trapped in, and remarks on how expensive it looks. A bouncing cone sticks him in the butt, and he throws it away. Unfortunately, it lands point in, and creates a black hole in the dimension that's slowly expanding, making everything else there fall in.
Back in the Simpsons' home, Ned has no idea where Homer is. Reverend Lovejoy instructs Homer to "move into the light," which turns out to be a bad idea. Dr. Hibbert asks him what it's like, and Homer describes it as being like TRON. Unfortunately, absolutely no one else has seen that movie. Professor Frink explains where Homer is—he's in the 3rd dimension.
Homer demands they actually help him. Wiggum fires his gun at the portal-wall. This just gives Homer some 3-D bullets to avoid. Homer has to quickly run away from the now rapidly-expanding black hole, and Grandpa Simpson walks up in an old-fashioned diving suit, declaring that he'll save Homer. Frink stops him, but when Homer again pleads for help, Bart ties a rope to his waist and goes in after Homer.
Bart enters the 3rd dimension, which by now has almost entirely been sucked into the black hole. Bart tries to save his father, but unfortunately he and Homer are on the opposite sides of the black hole. Homer is not able to jump to Bart. Bart is pulled back into the 2nd dimension, and Homer falls into the black hole. Bart explains what happened, and Lovejoy consoles Marge by saying he's gone to a better place.
Well, he has, if by 'better place' you mean 'our universe'. Homer lands in a dumpster in West Hollywood and explores his new surroundings. He doesn't seem too worried about it after he discovers an erotic cake shop.
---
Treehouse of Horror VI contains examples of (YMMV tropes can be found here):
---