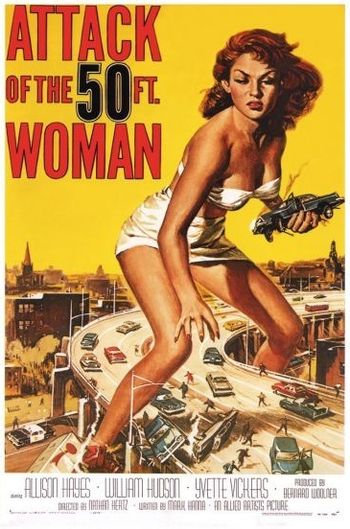 Attack of the 50-Foot Woman is a 1958 American black-and-white Science Fiction film directed by Nathan Juran (credited as Nathan Hertz), which acts as something of a Distaff Counterpart to The Amazing Colossal Man. One of the classic B-Movies, it is well remembered for its rather silly premise, as well as being a rather large source of Fanservice, and was remade for HBO in 1993, directed by Christopher Guest.
The basic plot: Nancy Archer (Allison Hayes), a rich California woman with a drinking problem and a cheating husband, has a close encounter with aliens while driving out in the desert. Attempting to convince her skeptical husband Harry (William Hudson) of what she saw, she takes him back out to the desert, where he promptly abandons her once the aliens reappear. She's found later, and her husband plots to kill her, but she's grown into a giant in her sleep. Nancy goes on a classic Kaiju rampage upon awakening, looking for her husband. During her rampage, she kills the other woman (Yvette Vickers) and kidnaps Harry King Kong style. She's eventually killed by an exploding power line transformer, and her husband thus dies with her.
The remake, starring Daryl Hannah, Daniel Baldwin, and William Windom, ramps the unsympathetic portrayal of her husband up to eleven, and has a much happier ending for Nancy. It could be seen as a tongue-in-cheek version of a Lifetime original movie: Every man is despicable or useless, and all the women, even her husband's mistress, get sympathetic portrayals and happy endings!
Obviously the Trope Namer for Attack of the 50-Foot Whatever.
---
The 1958 movie contains examples of:
The 1993 remake contains examples of:
---