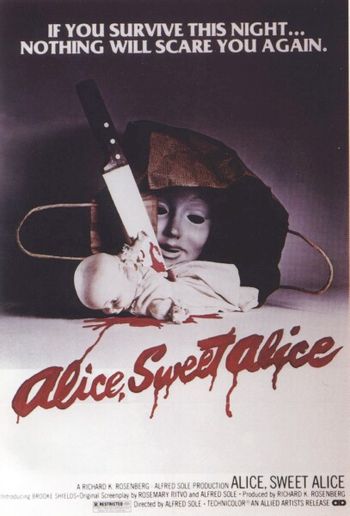 If You Survive This Night... Nothing Will Scare You Again.
Alice, Sweet Alice (1977) is an American psychological horror film that was first released as Communion in 1976, then as Alice, Sweet Alice in 1978, and as Holy Terror in 1981. It is noteworthy for being the feature film debut of Brooke Shields.
When a young girl named Karen is brutally murdered in the church where she was to receive her first Communion, the only suspect appears to be her older sister Alice, a strange and withdrawn girl who was jealous of the attention their mother gave Karen, and happily tormented her in retaliation. But could a 12-year-old girl be capable of such savagery? As more people die at the hands of a merciless killer, Alice seems more and more likely as a suspect, while her grieving father works to prove her innocence.
---
Alice, Sweet Alice contains examples of:
---