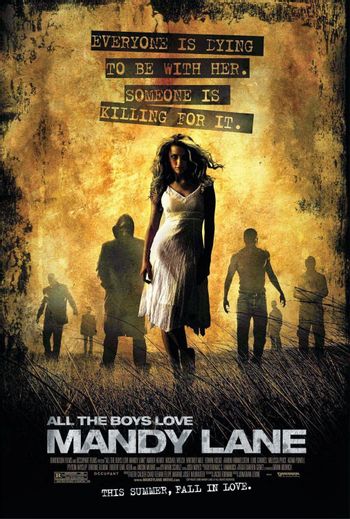 All the Boys Love Mandy Lane is a slasher movie that was made in 2006, first released in Britain in 2008, and finally got a limited theatrical release in the U.S. in October 2013, after seven years on The Shelf of Movie Languishment.
Mandy Lane (Amber Heard) is the most beautiful girl in her school, and all of her male classmates want to sleep with her, even though all indications are that she wants nothing to do with them. One of her classmates, an arrogant football player named Dylan, goes so far as to try to jump off the roof of a house into a swimming pool in order to win her love. Dylan winds up banging his head on the side of the pool and killing himself.
Fast forward nine months, where Red (Aaron Himelstein), the Big Man on Campus, is throwing a party at his parents' ranch, and all the cool kids are invited... especially Mandy. Unfortunately for the partygoers, somebody has come to the ranch uninvited, and he has his sights set on winning the heart of the beautiful Mandy Lane... no matter who gets in his way.
---
This film contains examples of the following tropes:
---