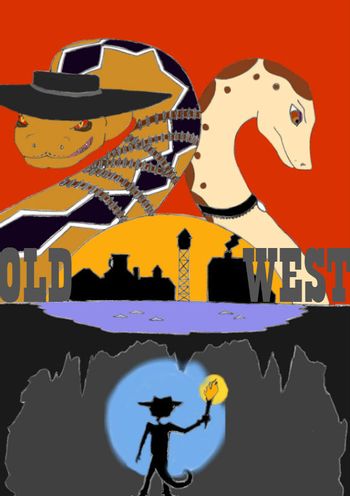 Old West
is a
Rango
fanfiction by
DONOVAN94
.
The story is set one year after the ending of the movie. The town of Dirt has prospered after it gained a permanent water source that created a lake next to it. Now it is called Mud, with Rango as the well-respected sheriff.
The peace of Mud is disturbed when the citizens are attacked by mercenaries for unknown reasons. Hearing from the mercenaries that they're looking for a snake, Rango recalls Rattlesnake Jake. He seeks Jake out and hires the outlaw to keep Mud safe from the mercenaries. Having been lately between jobs, Jake accepts the deal begrudgingly.
Soon another snake is involved: a glossy snake named Grace Glossy, a boar-farmer and single mother who lives close to Mud. When her farm seems to become another target of the mercenaries, Rango includes to Jake's duties protection of Grace as well as her home and son Teddy. Neither the hired outlaw or the law-abiding civilian like the arrangement, but they're over time forced to trust each other in the face of the unfolding threats.
Now with a Character Sheet
Official Description: In the old west, there's only one law: survive. The citizens of Mud are being attacked by mercenaries. But if Rango's going to save his town again he'll need to call in an old enemy: Rattlesnake Jake. But the rattler is not so willing to cooperate, especially when a glossy snake named Grace is involved. Whether they like it or not they'll need to work together to save the town.
Be careful of Late Arrival Spoilers regarding the movie.
---
This story provides examples of:
---