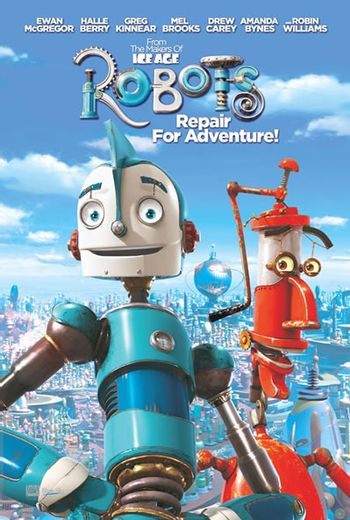 Looking for the trope? See Robot.
---
"You can shine no matter what you're made of!"
Robots is a 2005 CGI-animated film produced by Blue Sky Studios, directed by Chris Wedge and co-produced by William Joyce. It's written by David Lindsay-Abaire, Lowell Ganz and Babaloo Mandel.
After an accident in a local restaurant results in Herb Copperbottom (Stanley Tucci) going into debt, his ambitious young son Rodney (voiced by Ewan McGregor) leaves his hometown for Robot City, hoping to show his inventions to his childhood hero and revered inventor, Bigweld (Mel Brooks). To his dismay, Bigweld has been displaced by Corrupt Corporate Executive Ratchet (Greg Kinnear) who is interested only in selling shiny upgrade parts to robots, leaving anybody who can't afford them to rust.
Rodney finds himself alone and broke in the big city. Luckily (or unluckily) for him, he becomes friends with motormouth and kleptomaniac Fender Pinwheeler (Robin Williams), who introduces him to his little sister Piper (Amanda Bynes) and his misfit collection of friends: Lug (Harland Williams), Crank Casey (Drew Carey), and Diesel (who needs a new voice chip and is The Speechless for most of the movie.).
Ratchet's factory stops producing spare parts, forcing robots to upgrade worn-out components. For bots like Fender and his friends who can't afford the upgrades, this means being recycled in the chop shop - a nightmare world beneath the city which just happens to be overseen by Ratchet's domineering mother, Madame Gasket (Jim Broadbent).
Rodney, as The Hero, isn't just going to sit back and let this happen. With the help of Cappy (Halle Berry), an employee of Ratchet's who is disgusted by the way things are going, he sets out to reinstate Bigweld and defeat Gasket & Ratchet.
The voice cast also includes Dianne Wiest as Lydia Copperbottom and Jennifer Coolidge as Aunt Fanny.
The film was released on March 11, 2005, and received mostly positive reviews. It grossed $260.7 million in the box office.
Previews: Teaser Trailer
, Trailer
, International Trailer
---
This film provides examples of:
open/close all folders
A-C
Broken Pedestal: Rodney's faith in Bigweld takes a huge hit towards the climax of the film after seeing what he's become in the intervening years between Rodney's childhood and their meeting. Once He's Back!, becomes a Rebuilt Pedestal.
By the Lights of Their Eyes: Seen on Rodney and Cappy as they are walking through the dark entrance hallway to Bigweld's mansion. Justified because they're robots, and their eyes have built-in flashlights.
Chainsaw Good:

No actual chainsaws per se, but Madame Gasket's minions boast pretty impressive sawblade arms.
The giant (and apparently decorative) sawblade that Rodney and Bigweld use to knock over all the Super-Sweepers domino-style, taking them out of the fight.

Chekhov's Gun:

The Crosstown Express in Robot City plays a HUGE part after Rodney busts Bigweld out of the penthouse office and tries to get him away from Ratchet.
Subtle, but Bigweld's domino fixation gives Rodney a really bright way to battle the Super-Sweepers.
Cranium Chase: Fender's head falls off because he's lost the bolt that keeps it in place. He tries to pick it up but keeps accidentally kicking it away.
Crossdresser:

Fender ends up in a skirt and heels, though this is more like an Easy Sex Change.
At one point in his adolescence, Rodney's hand-me-downs are from his cousin Veronica. This part of his adolescence is mercifully skipped, and he's only shown wearing it in a single image. At graduation, he throws it away in the air.
D-F
Dance Party Ending: The day has been saved. Time for music and dancing. It's played with when

Herb turns out to be a terrible musician

and Crank claims he ruined the ending, but a marching band picks up the slack.
Dark Is Not Evil: Cappy. The upgrades she wears are a dull gun-metal colour, as are the ones worn by Ratchet, but unlike the latter, she's a purely good character who shows empathy for the outmodes.
Deadpan Snarker: Many characters: Most notably Crank. Helps that he's voiced by Drew Carey!

Crank: Hey want my advice?
Rodney: Sure.
Crank: Forget it. "Never try, never fail." Those are the words I live by.
Diesel Punk: Madame Gasket and the Chop Shop robots were designed to invoke this, rivets and all.
G
H-L
M-N
O-R
S-T
U-Z
Visual Pun: A robot complains, "I'm losing my mind!" as her brain components literally spring out of her head.
---