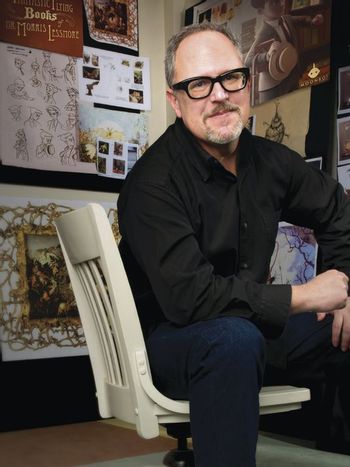 William Edward "Bill" Joyce (born December 11, 1957) is an American children's book author, illustrator and filmmaker from Shreveport, Louisiana. He has been writing books since
The '80s
, many of which have become classics, such as
A Day with Wilbur Robinson
,
George Shrinks
and
Dinosaur Bob
. Perhaps his lasting impression on readers has been assisted by the many films and TV shows based on his work by various studios made in the past couple of decades (such as
Nelvana
's adaptations of
George Shrinks
and
Rolie Polie Olie
), and he was personally involved in all of them. He has also started his own small studio, Moonbot Studios, in Shreveport which has been a part of development on more recent book titles, animated shorts and eBook apps. In 2012, he won an Academy Award for his short film
The Fantastic Flying Books of Mister Morris Lessmore
.
He is currently developing a book series called The Guardians of Childhood, slated to be a 12-book series, on which the 2012 DreamWorks Animation film Rise of the Guardians was based. Eight books are already released. He is also set to direct an animated adaptation of The Great Gatsby.
As of 2015, Joyce also teams with Moonbot cofounder Brandon Oldenburg to host the Turner Classic Movies series TCM Movie Camp, which presents family-oriented classic films on Sunday nights during the summer months.
---
Bibliography
Filmography
---
Works by William Joyce with their own pages:
Other works by William Joyce contain examples of:
---