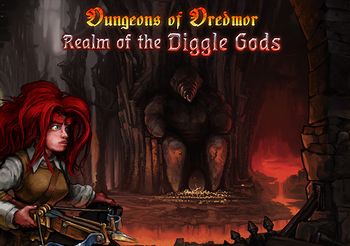 In ages long past, the Dark Lord Dredmor was bound in the depths of the earth by great and mighty heroes.
Centuries later, the magical bonds that hold him in place are slowly loosening and his power grows ever stronger.
The land needs a new hero.
Unfortunately, that hero... is you.
Dungeons of Dredmor is a Roguelike made by Gaslamp Games.
It's described as something like The Secret of Monkey Island meets Shiren the Wanderer, with features aimed at novices and veterans alike, topped with a truckload of references.
The game can be bought on Steam
for a cheap, cheap price, and the OST can be bought here.
An expansion pack, Realm of the Diggle Gods,
was released on December 14, 2011, offering five new floors, several new skill progressions, and tons of new enemies and items. A free DLC pack, "You Have To Name The Expansion Pack", came out the 5th of June, 2012. It made a few community mods part of the default game, adding a lot of new rooms, new skills, and new items. Another expansion, called Conquest of the Wizardlands, was published on August 1, 2012.
The game also has Steam Workshop functionality, since making Game Mods is easy as pie.
The game has no relation to the older game named Diggles.
Comes with an obligatory Shout-Out subpage.
---
Tropes featured in this game include:
---
Please don't go...
the diggles need you!