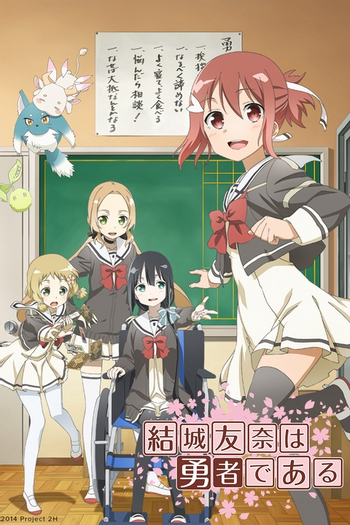 "Give a good greeting."
"Try not to give up."
"Sleep well, eat well."
"If you're troubled, talk to someone!"
"You're likely to succeed if you try."
Yuki Yuna is a Hero, a.k.a. YuYuYu, is a Magical Girl Genre Deconstruction series which premiered in October 2014. It was developed by Studio Gokumi and main writer Takahiro, the same guy who wrote Akame ga Kill!, from Minato Soft, the same company who wrote Majikoi! Love Me Seriously!
In the past, most of humanity was destroyed by a virus, with the Japanese island of Shikoku surviving thanks to the appearance of a divine tree called the Shinju, asking only for worship in return. Three hundred years later, Shikoku has prospered under the Shinju's guidance, allowing the people to live happy, ordinary lives. One such girl is Yuna Yuki, your everyday Ordinary Middle School Student who enjoys being with her friends and eating snacks. Yuna, her wheelchair-using best friend Mimori Togo, Fu Inubozaki and Fu's younger sister Itsuki all make up the Hero Club, a special school club formed to do good deeds and to help people. At least, that's what they were told.
Everything changes one day when the girls' cell phones abruptly start ringing in class. Before they can react to the "Forestize Warning" alert that their cell phone screens display, everyone and everything around them goes completely motionless, followed by the sky splitting open and the world being overwritten by an unearthly forest. Fu has to give the rest of the Hero Club the quick rundown on what's going on before the first Vertex attacks. As it turns out, the Hero Club is quite literal, and the girls have to fight to save the world.
Several other aspects of the universe, collectively called the Yuusha De Aru franchise, have been introduced:
The Yuusha de aru Franchise
Washio Sumi Is a Hero (WaSuYu) note — A prequel novel taking place two years before the anime, centered on the previous Hero team: Sumi Washio, Sonoko Nogi and Gin Minowa (serialized from April - November 2014).

Washio Sumi Chapter note — an animated adaptation of Washio Sumi, released as three movies in 2017 and comprising the first half of Yuuki Yuuna's second season.

Washio Sumi Chapter: Friendsnote (released March 18, 2017)
Washio Sumi Chapter: Spirit note (released April 15, 2017)
Washio Sumi Chapter: Promise note (released July 8, 2017)

Sonoko After — A short novel that serves as an epilogue to the anime, tying it and Washio Sumi together (published in January 2015).
Yuki Yuna is a Hero Club Member note — A comedic 4koma detailing the Hero Club's daily life, eventually including

Sonoko

.

Yuusha de aru All-Stars — A continuation of the 4koma featuring characters from Yuki Yuna, Washio Sumi, and Nogi Wakaba.

Yuki Yuna is a Hero: Memories of the Forest note — A video game released for the PlayStation Vita that takes place between episodes 3 and 5 of the anime, centered around the Hero Club meeting a mysterious girl within the Jukai.
Nogi Wakaba is a Hero (NoWaYu) note — A second prequel novel, this time taking place three hundred years before the anime, centered on the very first Hero team of Shikoku, the leader of whom is Sonoko's ancestor (serialized from July 2015 - January 2017).
Yuki Yuna is a Hero: Hanayui no Kirameki note — A mobile tower defense game featuring every single Hero across every story, along with two new Heroes from the Christian Era: Sekka Akihara of Hokkaido and Natsume Kohagura of Okinawa.
Kusunoki Mebuki is a Hero (KuMeYu) note — A light novel series taking place between season one and two of the anime, detailing the story of a group of failed Hero candidates being called by the Taisha to the Golden Tower for a special duty.

Kusunoki Mebuki is Training Now! note — A comedic 4koma featuring the characters of KuMeYu (serialized from September 8, 2017 - November 25, 2017).

Hero History Apocrypha note — A light novel series taking place after the events of NoWaYu, focusing on ordinary people living in the Divine Era:

Uesato Hinata is a Miko (UHiMi) note — A collection of stories centering on Hinata and the other Miko of the Taisha during the events of NoWaYu.
Fuyou Yuna is Not a Hero (FuYuYu) note — Thirty years after the events of NoWaYu, in an age which has only known the peace of the Divine Era, two girls named Yuna decide to try and see what lies beyond the Shinju's wall.
Karasuma Kumiko is Not a Miko (KaKuMi) note — The story of Kumiko Karasuma, a fake Miko who discovered Yuna Takashima and her Miko and helped bring them to Shikoku.
All's Right With the World — A bonus chapter that ties all the characters introduced in Apocrypha together.
Compare Puella Magi Madoka Magica, a similarly dark take on the Magical Girl genre which has been argued by some to be the show's primary inspiration. Contrast Lyrical Nanoha and Symphogear, works which themselves are dramatic at times but ultimately play the genre completely straight.
Season 1 was licensed by Pony Canyon USA for release in America before the entire series was rescued by Sentai Filmworks.
A second season
of the anime was announced for March 2017, the first six episodes being an adaptation of Washio Sumi titled Yuki Yuna is a Hero: Washio Sumi Chapter and the second half being a proper sequel titled Yuki Yuna is a Hero: Hero Chapter.
A third season, titled Yuki Yuna is a Hero: The Great Full Bloom Chapter, was announced on August 1, 2020 at an event celebrating the franchise's fifth anniversary. It aired in the Fall 2021 Season, serving as an adaptation of Kusunoki Mebuki is a Hero and Nogi Wakaba is a Hero, while also acting as a midquel for the events of the Hero Chapter, eventually filling in the events of Hero Chapter with bonus scenes.
---
FORESTIZE WARNING - Tropes are approaching. Please deploy to protect humanity.
---