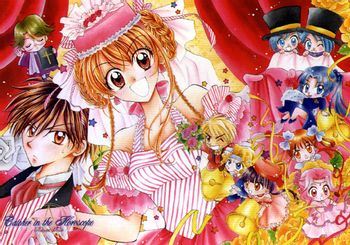 To solve a crime, she needs your sign!
Lili Hoshizawa is a perky 13 year old middle school girl who uses horoscopes and astrology to predict the fortune of people, as well as solving crimes under the disguise of "Detective Spica". When her old childhood friend Hiromi returns to Japan, he joins her in her crime-solving. She uses the star ring, inherited from her disappeared mother, to summon the spirits of the Western Zodiacs and gain clues of the crime by asking for the horoscope of an involved person for that specific day.
Zodiac P.I. (Jūnikyū de Tsukamaete, "Catch Me with the Twelve") is a shoujo manga written and illustrated by Natsumi Ando and serialized in Nakayoshi from 2001 to 2003. The manga was licensed in English by Tokyopop, but their editions have been out of print since August 2009.
---
Zodiac PI contains examples of the following Tropes
---