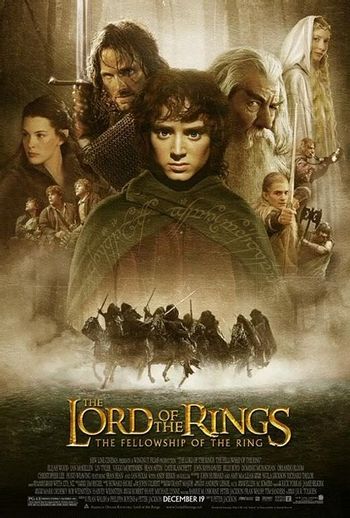 Frodo: I will take the Ring to Mordor. Though — I do not know the way.
Gandalf: I will help you bear this burden, Frodo Baggins, as long as it is yours to bear.
Aragorn: If by my life or death, I can protect you, I will. You Have my Sword.
Legolas: And you have my Bow.
Gimli: And my Axe.
Boromir You carry the fates of us all, little one.
The Lord of the Rings: The Fellowship of the Ring is a 2001 High Fantasy film. The first chapter of the Lord of the Rings film trilogy adapting J. R. R. Tolkien's seminal novel saga of the same name, it was directed by Peter Jackson and released in December 2001.
In the peaceful Middle-earth land of Shire, young hobbit Frodo Baggins inherits the One Ring from his uncle Bilbo during the latter's 111th birthday and learns of its origins as the artifact of power crafted by (and last remnant of) Sauron, the Dark Lord who once set out to conquer Middle-earth during the Second Age with his armies of Orcs and seemingly died. Frodo and three other hobbits, Samwise "Sam" Gamgee, Peregrine "Pippin" Took and Meriadoc "Merry" Brandybuck, are tasked by the wizard Gandalf the Grey to go to an inn. Once there, they meet a man named Aragorn, who was sent by Gandalf and helps them escape Sauron's dreaded heralds, the Nazgûls (or Ringwraiths). Gandalf meanwhile finds out that Sauron, while not having a physical presence, has returned and is rebuilding his forces in his kingdom of Mordor. Gandalf then gets betrayed by another wizard of his order, Saruman the White, who got corrupted by Sauron.
The group arrives at the elvish city of Rivendell, where they are reunited with Gandalf (who managed to escape from Saruman's custody) and meet Gimli the dwarf, Boromir (son of the Ruling Steward of the human kingdom of Gondor) and Legolas the elf. At the council held by the elf lord Elrond, they band together, forming the eponymous Fellowship of the Ring, and set out for a dangerous journey towards Mordor in order to destroy the One Ring in the fiery mountain where it was once forged, the only way to rid Middle-earth of Sauron once and for all.
It was followed by The Two Towers in 2002 and The Return of the King in 2003.
---
The Lord of the Rings: The Fellowship of the Ring contains examples of:
open/close all folders
A through C
D through I
J through P
Q through Z
---