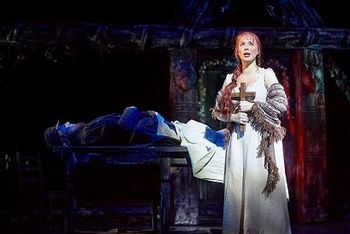 A catchall term for the often confused reactions characters may have after losing someone close to them — or perhaps even an enemy.
Symptoms include frustrated speech, attempts to explain the sudden emptiness and feelings that nothing is right, and shock that one day a person can be there and the next they're gone. A person in this state tends to either rant or have trouble stringing two sentences together.
Compare Antagonist in Mourning, when a villain finds themselves depressed and listless after the demise of their longtime arch-enemy.
As a Death Trope, this page will naturally contain spoilers!
---
Examples
open/close all folders
Anime & Manga
The Tachikoma in Ghost in the Shell: Stand Alone Complex, as robots whose memories are constantly backed up, are completely unable to comprehend death and are highly fascinated by what they consider the greatest philosophical mystery. Even when facing permanent dismantling or risking the destruction of their backup databases, they are unable to feel fear or sadness, and even seem to get a little giddy about the closest thing they can experience to death.
In Satou Kashi no Dangan wa Uchinukenai, this happens to

Nagisa

when she goes to Mokuzu's house and not only sees her Abusive Parent Masachika in there, but finds evidence that he kiled Mokuzu and dismembered her corpse. The poor kid is so horrified and shocked that they begin babbling about a quiz they heard of some time ago

which dealt with a murderous mother.
Comic Books
In Watchmen, Dr. Manhattan's near-omniscience causes him to become disinterested in human experiences like life and death. When he hears about the Comedian's death, he says "A live body and a dead body contain the same number of particles. Structurally, there's no discernible difference. Life and death are unquantifiable abstracts. Why should I be concerned?"
In Robin Tim notes that he's not sure what to feel after Karl Ranck was killed since Ranck seemed to have been trying to be friendlier but had been a grade A jerk whom Tim mostly considered an annoyance. He spends the funeral feeling out of place.
Fanfic
Once again, kalash93 has two examples.
In the Miraculous Ladybug fic The Legend of Royal Blue and La Sylphide, Gabriel is numb to the sudden death of

M. Lévêque, his building's de facto handyman

, who he only recently became friendly with. It's not until the memorial that Gabriel finally mourns. Not really for

Lévêque

, but because he waited until his last chance to talk to someone who

lived downstairs

.

Gabriel: You...took care of all of us. Nobody asked you to do it, but you cooked, you cleaned, you did laundry, you fixed the pipes, and you fixed the leak in the roof. I never saw you, but you were always there. What's going to happen to our garden without you? [cries] I'm sorry, Monsieur Lé...Joseph. I'm so, so sorry.
Films — Animation
In Big Hero 6, Baymax is a robot designed to provide medical care. For a while, he struggles to grasp that his creator, a young man in good physical health, has unexpectedly died in a fiery explosion.

Baymax: Tadashi was in excellent health. With a proper diet and exercise, he should have lived a long life.
Films — Live-Action
Orlando Bloom said in the DVD Commentary for the extended edition of The Lord of the Rings: The Fellowship of the Ring that what he was trying for, when the camera had its closeup on his face in the One-Woman Wail montage after Gandalf fell, was coming to grips with what death was, as an elf whose only experience with it previously had been seeing enemies die in battle.

This is repeated, and again noted in the commentary, when Boromir dies in the climax. While Aragorn sheds Manly Tears and Gimli sighs in a "that's another one we've lost" kind of way, Legolas again appears saddened and confused.

The Usual Suspects: "It's the strangest thing." Although it's possible that this was

MacManus

' reaction to finding out the Twist Ending.
Apocalypse Now: "The horror... the horror..."
Literature
Harry Potter's reaction to

his godfather Sirius

dying is a confused kind of anger that he can't even express properly. He has a similarly complicated reaction to

Snape's murder.

A mild version shows up in Howl's Moving Castle (the book, not the movie), where Sophie reacts to

Mrs. Pentstemmon's murder

by first being shocked that the passing was so sudden, and then realizing that "that's how it was, wasn't it? People are alive right up until they die."
The Underland Chronicles:

The Kill 'Em All ending leaves Gregor in a state of emotional distress about many characters, many of whom were absolute jerkasses toward him. Particularly in Gregor and the Code of Claw, when faced with

the Prophecy of Time that foretells his own death

.
On a smaller scale, the True Companions have a very confused, not-quite-stunned reaction to the death of Tick in Gregor the Overlander.

Despite having been Conditioned to Accept Horror, Paul in All Quiet on the Western Front isn't able to fully comprehend how the world can still be working and at the same time Kat (his best friend) can be dead.
In Inheritance Cycle, the main character Eragon is morbidly amused by death, expressing to Arya the elf that he wonders who or what it is that determines that they get to live while others are dead.
Live-Action TV
An early episode of Mad Men opens with the characters hearing about a plane crash. A few minutes later, Pete learns that his father was on the plane. What stuns him the most? "Everything's exactly the same." This is all complicated by the fact that he and several others had been making sick jokes. Also, he hated his father.
Anya's speech in the Buffy the Vampire Slayer episode "The Body": one of the most touching moments from her, where she explains her thought process, coming from immortality to mortality and being unprepared to deal with

Buffy's mother, Joyce,

being suddenly dead. And how she really doesn't know how to act, and human society makes it taboo to even ask how to act, so....

Anya:

But I don't understand! I don't understand how this all happens, how we go through this. I mean — I knew her, and then she's... there's just a body, and I don't understand why she just can't get back in it and not be dead anymore! It's stupid! It's mortal and stupid! And... and Xander's crying and not talking, and... and I was having fruit punch, and I thought, "Well,

Joyce

will never have any more fruit punch — ever, and she'll never have eggs, or yawn, or brush her hair, not ever," and no one will explain to me

why.

Alain of Kamen Rider Ghost has similar confused reaction as Anya. All about immortality to mortality, complaining about things being stupid and mortal (he would do that about quit a few things actually) and not understading human customs. His elderly human friend died a peaceful death, which he had never considered beforehand, not understanding that when people die it's not always huge and dramatic. This was not made any better by the fact that Alain had some notion of death in physical way

having seen his father die ealier

already so he understood what it means for her in this regard. It hits him as hard if not harder than everyone else because he considered death to be just a physical thing, meaning that he thought that once someone dies, it's the definitive end. He was deeply confused by the mixed emotions he saw among people at her funeral, not understanding why some of them are smiling while other are crying. His friends explained to him that people are both cherishing good memories of her and mourning her as while death is an end, it's not as definitive as he thought. This is one of the points of Ghost after all. It still took him some time to grasp this.
This is a large part of the premise of Six Feet Under.
In the Mystery Science Theater 3000 episode featuring Gunslinger, Joel tries to explain to Crow and Tom about being dead and the two are just utterly confused about it, Crow expressing that it was like "throwing the baby out with the bathwater".
In Doctor Who, Clara Oswald suddenly loses her boyfriend Danny Pink after he's hit by a car while talking to her on the phone. After this she is surprised at how "boring" his death was.
Theater
Video Games
Resident Evil 5 has

Irving

dying (although you could have seen that coming) with the line, "Dying ain't so bad, but it ain't gonna change nothin'; you're still screwed!" Touching.
In Broken Sword: The Shadow of the Templars, when George questions a French Jerk road worker who saw the murder victim before he died, he has nothing but bad things to say about him; but after George tells him the man died, he feels bad for everything he said. Lampshaded by George's narration.

Regret and remorse are strange emotions. They really bring out the hammiest actors in people.

The Dragons in The Elder Scrolls V: Skyrim are eternal, immortal beings, and even when they die, they can be resurrected easily by another. As a result, the concept of mortality is alien to them; so alien in fact, that the humans weaponize it against them with the Dragonrend Shout. Made of 'Mortal', 'Finite' and 'Temporary', the Shout is a Brown Note to dragons, disorienting and causing them to fall from the sky.
Genshin Impact: Bennett's character story has him once ponder about what "death" truly means or feels like. He got a bit fearful when he thought about it, but he then thought that if an "adventurer's death" is a good one, then it must be an adventurer's final fortune... and then he went on to think that "not that fortune has anything to do with him". With that, he just stopped thinking about death altogether and goes on to find his next treasure.
Web Animation
Homestar Runner: Strong Bad's reaction to losing the Compy 386 in the Strong Bad Email "virus" is to babble incoherently and repeatedly Head Desk.

'Strong Bad:" Dear Strong Bad... I duh doh douh crapfully yours... I duh doh douh crapfully yours!''
Western Animation
Real Life
The cracked.com article 5 Things No One Tells You About Death illustrates this pretty well with Felix Clay's description of his own flustered internal debate over what he should wear to the hospital where a friend has just died:

"Should I just go with what I had on? Do you wear a tie? A dress shirt? I had shorts on, did I need long pants? Long pants are respectful. A tie is respectful. But it's not a funeral, not yet. I didn't need to change yet, did I? Who the fuck spends this much time deciding on a wardrobe? An hour had passed. A whole hour, just looking at my collection of novelty T-shirts and colorful silk ties and accomplishing nothing."
---