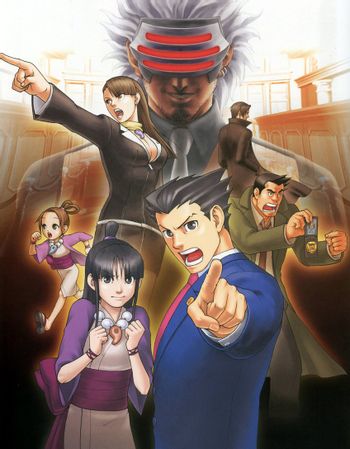 "It's only natural for living creatures to fight to protect their own lives. But what makes us human is that we fight for others. But who do you fight for? How hard must you fight...? That's the true measure of what human life is worth. We defense attorneys are warriors who are constantly challenged by that question. Even when the battle is over, and the bonds that connect us are severed... We always return... Time and time again. "
— Phoenix Wright, "Bridge to the Turnabout"
Phoenix Wright: Ace Attorney – Trials and Tribulations is the third game in the Phoenix Wright: Ace Attorney trilogy and the Ace Attorney visual novel franchise, following Phoenix Wright: Ace Attorney – Justice for All. It was initially released for the Game Boy Advance in 2004, then for the Nintendo DS in 2007.
Like its two predecessors, the game follows Phoenix Wright, a kind and intelligent yet hapless defense attorney who works to save innocent clients from guilty verdicts. By his side are his loyal assistant, Maya Fey, her older sister Mia, and her cousin Pearl. The game culminates the Phoenix Wright trilogy by way of the mysterious coffee-guzzling prosecutor Godot. The Fey clan and its Kurain Channeling Technique is a big portion of the plot in this game, as Phoenix, Edgeworth, and the Fey clan are more connected than they realize thanks to a mysterious beauty named Dahlia Hawthorne.
Initially the Grand Finale of Phoenix's arc, the game was chronologically followed by Apollo Justice: Ace Attorney, which stars a new cast but with Phoenix in a surprising mentor role.
The Phoenix trilogy as a whole has been compiled and updated for rerelease (including HD art and smoother animations) for multiple systemsnote iOS and Android, Nintendo 3DS, Nintendo Switch, Playstation 4, Xbox One, and PC as the Phoenix Wright: Ace Attorney Trilogy.
Trials and Tribulations was adapted as the second season of the franchise's anime adaptation in 2018.
---
Tropes in this game: