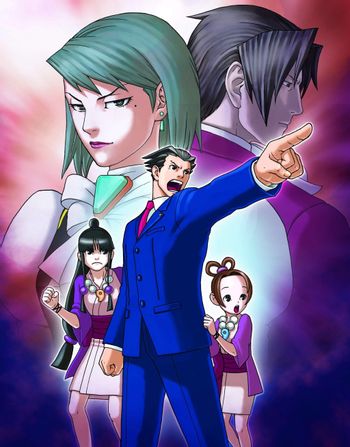 "It doesn't matter how many underhanded tricks a person uses... The truth will always find a way to make itself known. The only thing we can do is to fight with the knowledge we hold and everything we have. Erasing the paradoxes one by one... It's never easy... We claw and scratch for every inch. But we will always eventually reach that one single truth. This I promise you."
— Miles Edgeworth, "Farewell, My Turnabout"
Phoenix Wright: Ace Attorney – Justice For All, is the sequel to Phoenix Wright: Ace Attorney, and therefore, the second entry in the Ace Attorney visual novel series. It was first released for the Game Boy Advance in 2002 and rereleased for the Nintendo DS in 2006.
Some time after the events of the first game, Phoenix Wright is back defending an array of new and wacky clients, including the chronically unlucky Maggey Byrde. But when Maya is accused of murder again, Manfred von Karma's proud genius of a daughter, Franziska von Karma, comes to town to prosecute Phoenix's clients to avenge her father. Near the end, the game also highlights the nature of the relationship between Phoenix and Edgeworth.
The game features a new element known as Psyche-Locks. Thanks to a special magic item known as a Magatama, Phoenix is able to tell when people are trying to deceive or otherwise hide important information from him during investigations outside of the courtroom. The player is able to break the metaphorical "locks" that visualize these secrets that the characters hide, with this involving the presentation of evidence in a manner not dissimilar to the normal courtroom gameplay. The game also replaces the five-strike system for a virtual health bar where the amount of health lost varies based on the seriousness of the error the player makes (accuse the Judge of hiding the murder weapon, and you'll really be feeling it). Plus, the player can present profiles in addition to evidence.
The third game, Phoenix Wright: Ace Attorney – Trials and Tribulations, was released in 2003. The Phoenix trilogy as a whole has been compiled and updated for rerelease (including HD art and smoother animations) for multiple systemsnote iOS and Android, Nintendo 3DS, Nintendo Switch, Playstation 4, Xbox One, and PC as the Phoenix Wright: Ace Attorney Trilogy.
Justice For All was adapted into the second half of Ace Attorney's first season in 2016.
---
Tropes in this game:
---