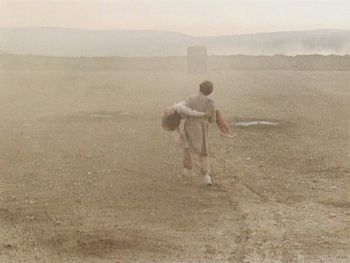 The Doctor:
Androzani Major was becoming quite developed last time I passed this way.
Peri:
When was that?
The Doctor:
...I don't remember. I'm pretty sure it wasn't the future.
— The Fifth Doctor, reminiscing on how hard it is to try and keep his travels straight.
The one where the Doctor fondles a bat.
Ladies and gentlemen, get ready, because you will see a show this time: Peter Davison's final story, ending his tenure at an even twenty. Robert Holmes returns for the first time since Season 16. And Graeme Harper directs his first, ambitiously opting to abandon generic stage direction that felt static and stilted, get direct with the actors and aim for a bolder, more dynamic filming style. The result? What to this day remains one of the best Doctor Who serials ever made. It's also a colossal bloodbath.note We're not kidding. Morgus' secretary and Peri are the sole survivors.
This four-episode serial first aired from March 8—16, 1984.
---
Landing on the planet of Androzani Minor, the Doctor and newnote New on TV, anyway; in the audios, Five has many adventures with Peri between the previous serial as well as a new companion, an uncrowned Pharaoh from Egypt called Erimem, and this one and they're very close by this point. companion Peri go out of the TARDIS to wander around a very, very exotic alien planet. They quickly (and more or less in this order) find themselves under attack from random people, contract a nasty rash by stepping into a cobweb, get captured, jailed, and then shot. note In retrospect, the Doctor also seems to be taking the leaving of Turlough and the loss of Kamelion from the last episode rather well. Though again, if you consider all the audios added in between that was quite some time ago.
Luckily, as it turns out, the Doctor and Peri that were shot were actually android duplicates rather than the real thing. The real Doctor and Peri, on the other hand, now find themselves the eternal "guests" of the mysterious Sharaz Jek, who hangs out in the lower caverns wearing a black-and-white jumpsuit and a trippy The Phantom of the Opera-style mask and totally isn't an obvious stand-in for David Bowie (who was originally picked for the role but ultimately dropped out due to scheduling issues). Jek has rather... unsavoury intentions for Peri. Also, there's a dragon-like thing roaming about, but that's neither here nor there.
Peri and the Doctor compare their rashes and increasing dizziness; a more senior "guest" of Jek's sees this, and smugly tells them that the cobweb they fell into was spectrox, a highly toxic silk that's also the chief ingredient for a valuable anti-aging drug, and that they are now suffering a slow and painful death at the hands of "spectrox toxaemia". Before a cure can be found, the Doctor and Peri are separated — with the Doctor being shot at (and getting a head wound) and kidnapped by Stotz and his gang (for interrogation at Androzani Major). He's blindfolded and handcuffed to a wall, but manages to escape by burning his handcuffs off (and burning himself a bit, too), takes over the space ship and tries to manually crash land it while snarking at his captors. He's also still dying. The gang literally lasers a hole through the cockpit door, and the Doctor scrambles out of the ship, barely able to stand anymore but running with all his might.
Meanwhile, the story takes an unexpected nose dive into Psychological Horror and political intrigue. Jek falls madly in love with an increasingly unconscious Peri, but she's terrified when she sees his burned face underneath the mask, and he goes into a Villainous BSoD. The local president, who's 85 but looks 50 thanks to refined spectrox, is caught up in an arms race conflict full of corruption. He's deposed by his lackey by creative use of an elevator shaft, and the lackey is quickly deposed by his smug secretary lady using the regular legal system. It all results in death. Lots and lots of death.
The Doctor returns to Jek's place and (using his respiratory bypass system) goes off into deep, nearly airless caves to retrieve the cure for his and Peri's condition: the milk from a space bat, the natural source of spectrox. Sadly, we don't get to see Peter Davison milking a bat. Luckily, he manages to carry her out in time for redeemed-villain Jek to die a Heroic Sacrifice. The Doctor carries an unconscious Peri along the alien landscape until he trips just before reaching the TARDIS — dropping Peri and one of the two doses of antidote. He crawls in, locks the door, drags himself to the console and gets the TARDIS to vworp away half a second before the ground underneath her explodes.
The Doctor gives Peri the remaining antidote — actually worried that he might die permanently rather than regenerate. As we all know, though, this is not the case, and as visions of his companions and the Master surround him, he turns into the Sixth Doctor. This new chap, with curly blond hair atop his head, gives his sardonic wit a whirl and insults Peri with a condescending remark. Six believes this regeneration is for the better and gives the camera a big, confident, full of himself smile.
---
Tropes
---
"Adric?"
---
Peri: What's happened?
The Sixth Doctor:
Change, my dear. (
Aside Glance
) And it seems, not a moment too soon.