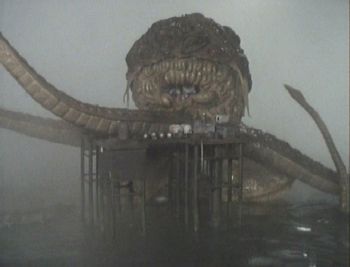 The Doctor: Well, you'd better introduce me.
Romana: As what?
The Doctor: Oh, I don't know... a wise and wonderful person who wants to help. Don't exaggerate.
The one with the Blue Man Group. Except they're green.
Written by Robert Holmes. This four-episode serial first aired from December 23, 1978 to January 13, 1979.
---
The search for the Key to Time takes the Doctor and Romana to the third moon of Delta Magna, a marsh-covered world where the indigenous tribesfolk worship a giant squid-god called Kroll. K-9 can't come along (it's too wet, and his actor is busy playing a mook). Things are complicated by the presence of a mining operation from Delta Magna, which is stealing the natural resources and angering the locals — and then it turns out that there really is a Kroll, the mining operation has woken him up, and he's more than a little grumpy. Kroll's really just an overgrown squid brought over by the colonists as a little one, but that doesn't make him less dangerous.
The head of the mining operation, Thawn, decides to blast Kroll with rockets, but the Doctor disables them just in time for the locals to mount an attack on the refinery and kill him. The gizmo the Doctor has been using to track the Key to Time shows it's Kroll — or maybe it's just inside Kroll... Turns out Squidzilla has eaten a local relic which is the Key segment, and the Doctor uses his gizmo to transform it back again, which has the handy effect of turning one giant squid into lots of normal-sized ones. They retrieve the segment, prevent the whole rig from blowing up as an aftereffect, and leave the one remaining villain to sort things out with the tribesfolk on his own.
---
Robert Holmes
has called this
his least favourite of the ''Who'' stories he wrote
, describing it as rather dull. He was never a fan of "big scary monster" stories, and so was uneasy with the premise he was given, as well as the way the script was executed. It also suffers from
budgetary issues
, even by
Who
standards of the time. His dissatisfaction with the story led to him not returning to write any more
Who
stories until "
The Caves of Androzani
" six years later.
Tropes
---