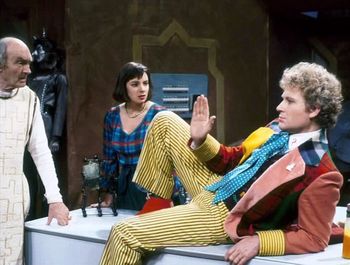 "I am the Doctor, whether you like it or not."
The one where the Doctor tries to murder his companion.
But more importantly, it's the one with... the coat.
The story where Colin Baker made his explosive debut as the Sixth Doctor, ratcheting wildly from one emotion to another, showing the range of Colin's acting talent in a very upfront manner.
The Doctor isn't recovering well from his regeneration, suffering mood swings, arrogance, bad temper, and terrible dress sense. He suddenly decides Peri is evil and tries to kill her, then one mood swing later is full of remorse and declares his intention to find a deserted asteroid and become a hermit. Peri is not much impressed, particularly since he seems to have decided she has to go and be a hermit too.
As luck would have it, however, the deserted asteroid is also a stopping-off point for a group of kidnappers who have just abducted a pair of identical twin geniuses to assist with a sinister plot. It isn't long before the Doctor's rediscovering his enthusiasm for saving the universe from evil telepathic giant slugs.
His dress sense seems to be altered permanently, though.
---
This story was pinned onto the end of Season 21 when the idea of introducing viewers to a brand-new Doctor right off the bat instead of making them wait for the next season had merit. However, the end result was very divisive, to say the least: suddenly, the kind and noble Doctor was
radically
redefined into the polar opposite, a spiky and unpredictable fellow. Regardless of what one thinks of this story (
and we cannot stress this enough
), it certainly left a mark on viewers.
---
Tropes:
---