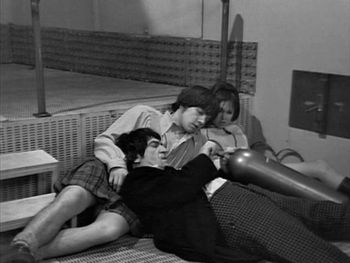 You'll have tae eat more porridge.
— Jamie to Zoe, as she fails to open a door
The one with a space hick.
Written by Robert Holmes. This six-episode serial first aired from March 8 to April 12, 1969.
---
The TARDIS lands on a space beacon just before it is attacked by the titular Space Pirates. They blow off a chunk of the beacon with the Doctor, Jamie and Zoe (but not the TARDIS) aboard, and tow it off to be salvaged.
There is a fight between the pirates and the Interstellar Space Corps, who believe the pirates' leader is an eccentric explorer called Milo Clancey, while in fact it is a man called Caven. Caven is assisted by Madeleine Issigri, daughter of Clancey's partner Dom, who he has ambushed and keeps prisoner. When Madeleine discovers this, she shops Caven to the ISC and the exonerated Clancy gives them a lift back to the TARDIS.
With the exception of Episode 2, this entire story is missing from the BBC archives; notably, the sole reason Episode 2 survives is because it was recorded on 35mm film as opposed to the 2-inch quad videotape that was standard for BBC studio production at the time (35mm was typically reserved for location footage before smaller and cheaper 16mm equipment supplanted it in the late '60s, with Doctor Who having already made use of 16mm location shooting since "Fury From the Deep"), motivating the network to protect the master negatives for the sake of historical preservation. A few other episodes earlier in the show's run were also shot on 35mm, but not all of them survivenote the 35mm negatives for Episode 6 of "The Power of the Daleks" and Episode 5 of "The Wheel in Space" were junked by the BBC Film Library. Thankfully, these are the last missing episodes. Everything beyond this point exists, though not always in the originally recorded format. Also, this is the very first serial on which future producer John Nathan-Turner was involved in the production team, working as a floor assistant.
Tropes