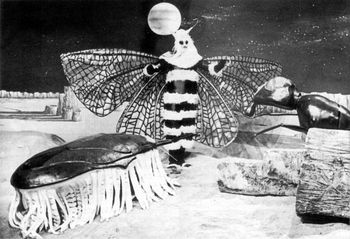 "Apart from rubbing our legs together like some sort of grasshopper, I doubt if we can get on speaking terms with them."
—The Doctor ponders the difficulties of communication.
The one on drugs.
Written by Bill Strutton. This six-episode serial first aired from February 13 to March 20, 1965.
---
Continuing the series' general policy at this point of alternating history and science fiction-themed stories, we head to the planet Vortis, populated by the butterfly-like Menoptra and ant-like Zarbi. The latter have fallen under the influence of the Animus, a parasitic creature which is slowly enveloping the whole planet in webs.
While the camera lens gets a bit foggy from the sheer weirdness of this planet, the TARDIS crew are split up. The Doctor and Vicki try to keep themselves alive while dealing with the Animus, while Ian ends up in the underground home of the Optera. Barbara spends the serial in the company of a scouting party of Menoptra. Ultimately everyone converges on the lair of the Animus and (barely) manage to defeat it thanks to an untested weapon built by the Menoptra.
Novelized under the title Doctor Who and the Zarbi. It was the second novelisation to be released, right after Doctor Who In An Exciting Adventure With The Daleks. It was also tremendously popular when it aired, with episodes 1 and 4 getting more than 13 million viewers, among the highest the series has ever gotten, only surpassed by some episodes of the Tom Baker era and the modern Christmas specials. Episode 1, with 13.5m people watching, was the single most-watched episode of 1960s Who.
---
Tropes
---