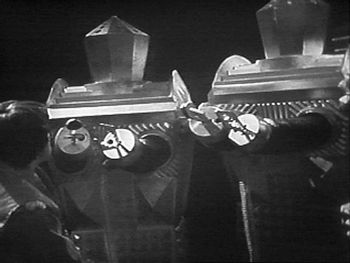 The Doctor's almost as clever as I am.
— Zoe
The one with evil cardboard boxes, and the first of many serials written by Robert Holmes.
The TARDIS lands on the planet of the Gonds, who are ruled by the crystalline Krotons, whose ship crashed there thousands of years ago. The Krotons are in suspended animation inside their ship, the Dynotrope, but use their mental powers to dominate the Gonds. The brightest Gond minds are periodically sent as tribute on board the Dynotrope where the Krotons feed from their mental energy and discard the husks.
The Doctor and Zoe take the Krotons' test, and their mental energy is enough to revive the aliens. The Doctor discovers enough about them to enable him to destroy them and their ship with sulphuric acid, helped by a Gond scientist.
Tropes
---