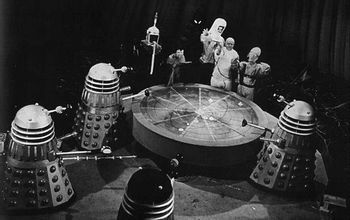 "I'll tell you this: there's something very big going on here, and if the Daleks are involved, you can bet your life our whole galaxy is in danger."
— Marc Cory
Production code: Changed throughout productionWait, what?
April/May: DC
July: T/A
Later: T Episode 5
The one where a man becomes a killer cotton ball. Also the one without the Doctor.
Written by Terry Nation. This episode first aired on October 9, 1965.
---
A Lower-Deck Episode. A bottom deck episode, in fact. The Time Travel Team and TARDIS don't even appear at all - this is just a teaser for the later story "The Daleks' Master Plan".
Three dudes, one of whom is a security agent for the Second Great and Bountiful Human Empire, crash in a jungle. They discover a Dalek plot to take over the solar system, and all end up very dead. Shades of James Bond abound.
An animated reconstruction exists, made by fan animators, and partly funded by well-known superfan Ian Levine.
The episode was recreated in live action in 2019 by students of the University of Central Lancashire; the recreation had the full support of the BBC. It's likely the only such recreation that could ever be feasibly made, given the story's unusually short nature (only being superseded by the mini-episodes of the revival series) and lack of any of the show's principal cast. It premiered on the official YouTube channel for Doctor Who on October 9, 2019, exactly 54 years after the original episode was broadcast. It can be seen here.
---
This episode/story provides examples of:
---