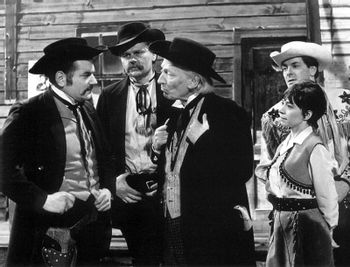 You can't walk into the middle of a Western town and say you've come from outer space! Good gracious me. You would be arrested on a vagrancy charge!
— The Doctor
The one with singing.
Written by Donald Cotton. This four-episode serial first aired from April 30 to May 21, 1966.
Episodes: "A Holiday for the Doctor", "Don't Shoot the Pianist", "Johnny Ringo", "The O.K. Corral".
---
Now the Doctor has broken
A tooth on a sweet.
The TARDIS arrives in
An old Western street.
And the dentist that's nearest
Is Doc Holliday,
Who looks just like Theta Sigma
When he's seen the right way.
Holliday and the Clantons
Are at loggerheads.
The Clantons they try to
Make Steven Taylor dead.
And they think that the Doctor
Is Holliday, too.
Meanwhile Johnny Ringo shows up
At the Last Chance Saloon.
Clantons shoot Wyatt's brother
It's Personal now.
A showdown ensues at
The OK Corral.
And the Clantons and Ringo
Are deaders quite soon.
Doctor, Steven, and Dodo
Leave the Last Chance Saloon.
'Tis the last story with
Episode titles, see?note Until 2005
Like "The Romans", "The Myth Makers",
'Tis a humor piece.
And that Who ain't our timeline
This story it proves.
In our world things went quite diff'rent
Near the Last Chance Saloon.
---
Tropes: