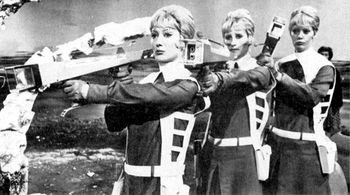 "It is easy to help others when they are so willing to help you. Though we are beings of separate planets, you from the solar system and we from another space, our ways of thought, at times, do not seem all that different. It has been an honour to know you and serve you."
— The Rills say goodbye.
The One With… the giant talking earplugs.
Written by William Emms. This four-episode serial first aired from September 11 to October 2, 1965.
Episodes: "Four Hundred Dawns" (missing), "Trap of Steel" (missing), "Air Lock", "The Exploding Planet" (missing).
---
The TARDIS lands on a desert planet and the travellers find two crashed spaceships and their occupants; the hideous Rills (and their cute robots, nicknamed "Chumblies" by Vicki) and the beautiful female Drahvins. The two have had a space battle above the planet and crash-landed, but the planet is disintegrating.
The Rills turn out to be the good guys — innocent explorers who were attacked without reason by the warlike Drahvins, mindless clones led by a tyrannical matriarch.
With escape imperative and their own ship a complete write-off, the Drahvins try to force the Doctor, Vicki and Steven to help them capture the Rills' ship, but the Doctor instead powers up the Rills' ship from the TARDIS, allowing them to escape and then departs himself, leaving the Drahvins to their deaths.
---
This story is thought to be one of the last to be junked before the episode junkings were stopped in 1978, though there's some dispute about that. All four episodes (besides about eight minutes of Episode 1) were lost until 2011,
when Episode 3 (Air Lock) was returned to the BBC.
Reconstructions
note
can be watched
here.
A slightly condensed official reconstruction consisting of all surviving footage with stills, new animations and the original soundtrack was released as an extra on the 2013 DVD release of "
The Aztecs
".
Peter Capaldi brought the story quite a lot of attention when he claimed the Chumblies were his favourite villain from the show during a convention during his time as the Doctor, to the confusion of everyone present.note In fairness to those fans, maybe their confusion was because the Chumblies aren't villains.
---
Tropes
---