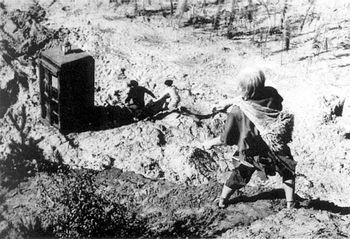 Oppose you! Indeed I am going to oppose you - just as in the same way that I oppose the Daleks, or any other menace to common humanity!
— The Doctor
The one where we're the villains.
Written by Ian Stuart Black. This four-episode serial first aired from May 28 to June 18, 1966.
---
Another Sci-fi staple here as an apparently utopian society hides a dark secret. In this case, the civilised, advanced Elders are remaining that way only by draining the life force of the other inhabitants of the planet, The Savages.
The Doctor is outraged, but powerless to intervene when some of his own life-force is drained by Jano, leader of the Elders. With it, however, Jano absorbs some of the Doctor's conscience and knowledge, and destroys the life-force transference lab.
Steven stays behind to become the leader of the newly-united Elders and Savages.
---
This is the first story to label its episodes as "Episode 1", "Episode 2", etc. instead of giving the episodes individual titles.
Tropes
---