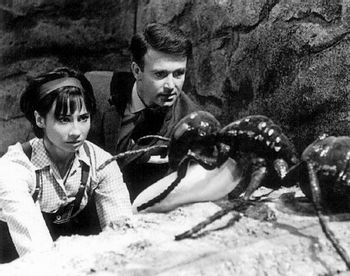 "Do you know why I'm a success, Mr Farrow? Because I've never allowed the word "can't" to exist."
—Forester
The one where the Doctor plays environmentalist.
Written by Louis Marks. This three-episode serial first aired from October 31 to November 14, 1964.
Episodes: "Planet of Giants", "Dangerous Journey", "Crisis".
---
Given a second seasonnote (though this story and the next were actually filmed as part of the first season), Doctor Who kicks off with a sci-fi staple — the heroes are shrunk to about an inch tall.
All the usual fun and frolics with perfectly normal household objects becoming perilous deathtraps are there, but they also accidentally stumble upon a plot by ruthless businessman Forester to launch a new insecticide, DN6, despite it being harmful to other life. A civil servant named Farrow investigates, but upon refusing to back down is murdered by Forester (told you he was ruthless). Forester then summons the creator of the insecticide, Smithers, and blackmails him into helping cover up the crime.
Barbara is made ill by the insecticide, but the others manage to foil Forester's plan by tampering with his telephone, causing the local telephone exchange operator to be suspicious and send her policeman husband along to investigate. He isn't murdered, and brings Forester to justice.
---
This story was originally produced as four episodes, but it was decided the original edit was too slow-paced for a season opener (and
Carole Ann Ford
's departure in the next story made it impossible to rejig the running order to have another story go first). Hence, episodes 3 and 4 were merged into a single episode using about half the material from each in post-production, making it the only three-part story in the first 23 years of the show's run.
The Irwin Allen series Land of the Giants bears a remarkable similarity.
---
This story provides examples of:
---