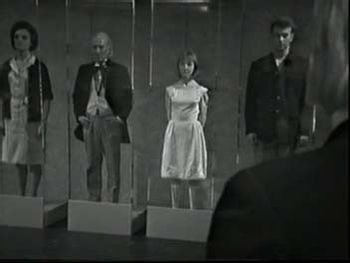 Have any arms fallen into Xeron hands?
— A Morok
The one where the Doctor is a walrus. Koo-koo kachoo.
Written by Glyn Jones. This four-episode serial first aired from April 24 to May 15, 1965.
---
The TARDIS heads for the future again, and manages, because of a Timey-Wimey Ball, to arrive at a space museum. The museum displays the conquests of the great Morok empire, and the planet is Xeros, one of the many under the dominion of the Moroks.
Team TARDIS sneaks around the museum for a while, before realising that they're invisible, inaudible, and also that later versions of them are trapped in glass display cases as museum exhibits. Vicki, impressing the Doctor with her understanding of dimensional physics, realises that they've jumped a time track and they're all stuck in a reality that might or might not lead up to them becoming Human Popsicle displays. The group decides to mess with time and stop that possibility from becoming reality.
Time sorts itself out again, and then the TARDIS properly arrives on Xeros. The Doctor is soon captured, and entertains himself by effortlessly outwitting the Moroks' mind-reading machine. Ian and Barbara spend a lot of time walking through corridors and trying to find the exit. Vicki falls in with La Résistance, the native Xerons, who want to rise up and free themselves from the Moroks. She helps them by hacking into the security system and getting them some proper weapons.
In the end, the Xerons and their magnificent eyebrows win the day, the heroes don't end up in display cases, and Vicki has a bit of a Friendship Moment with their leader before departing again. As a souvenir, the Doctor is given a giant Time And Space Visualiser: a sort of omniscient TV set.
As the travellers depart, we cut to a deserted planet, where a Dalek reports that the TARDIS is underway, and is told that the Daleks' own time machine is in pursuit and the Doctor will soon be exterminated.
Tropes
---