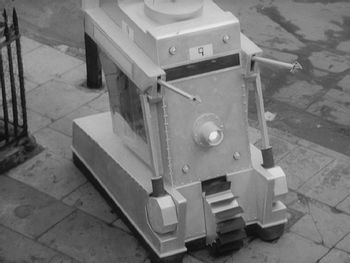 "I dig your fab gear!"
— A nightclub owner likes the Doctor's clothes.
The one where he actually is "Doctor Who".
The TARDIS arrives in contemporary London, and the Doctor and Dodo visit the Post Office Tower, where they meet Professor Brett and his new super-computer WOTAN, which can think for itself and is about to be plugged into a worldwide computer network.
Hmm. Computer that can think for itself... Yeah.
We're just gonna skip to the part where WOTAN hypnotises humans into building the titular War Machines, which turn out to be more than a match for the army. The Doctor uses a magnetic field to capture one, which he then reprograms to destroy WOTAN.
Dodo, having been hypnotised by WOTAN, decides she's had enough adventure. Since she's back in her own time, she decides to stay there. In one of the lamest departure sequences for any companion, she isn't seen after part two and says goodbye to the Doctor in part four via a note, delivered by Polly. The Doctor leaves, but not before Professor Brett's secretary Polly and able seaman Ben Jackson enter the TARDIS while trying to return a missing TARDIS key to the Doctor.
---
All four parts of this story are recovered and viewable. As of now, it's the final complete serial of the First Doctor's run, and the only complete serial (without animated reconstruction) to feature Ben and Polly. It's notable as the first instance of the "Yeti on your loo in Tooting Bec" story which would become increasingly prominent in the Patrick Troughton era and come to define the Jon Pertwee era, with various baddies running around recognisably modern-day London and haunting major London landmarks. It's also notable as taking place on the same day (July 20 1966) as Ben and Polly's last story, "The Faceless Ones".
Tropes
---