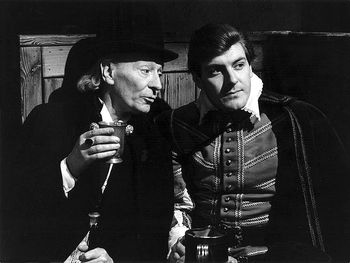 At dawn tomorrow this city will weep tears of blood.
— Marshal Tavannes
The one where the companion is the protagonist for the first time. And also where a lot of people die in the end.
Also known as The Massacre of St. Bartholomew's Eve.note The massacre actually took place on St. Bartholomew's Day; this full title may be a hangover from the earlier drafts, which were less historically accurate than the finished product.
Written by John Lucarotti and Donald Tosh. This four-episode serial first aired from February 5-26, 1966.
Episodes: "War of God", "The Sea Beggar", "Priest of Death", "Bell of Doom". All four episodes are missing.
---
The TARDIS materialises in Paris, 1572, and the Doctor wanders off to visit a famous apothecary while Steven falls in with a group of Huguenots (French Protestants) from the household of Admiral de Coligny. Steven and his new friends rescue Anne Chaplet, a serving-girl, from some guards and hear of a plan by the Queen Mother, Catherine de' Medici, to massacre all French Protestants. Meanwhile, the Abbot of Amboise— a Doppelgänger of the Doctor— is executed by the authorities for failing to have de Coligny assassinated, giving Steven quite a shock when he finds the body in a gutter.
Steven heads back to the TARDIS at the apothecary's shop and the two depart just as the massacre begins. Steven is furious that the Doctor refuses to save Anne from the massacre and storms off once the TARDIS lands again on Wimbledon Common. The Doctor is clearly depressed by Steven's departure in these unpleasant circumstances, and regrets the fact that he has been abandoned by all his companions so far, with each preferring to return home or finding a new one: Susan, Ian, Barbara, Vicki and now Steven. The Doctor even seriously considers returning to his home planet, but for some reason, he concludes that he cannot return.
Suddenly, a girl enters the TARDIS looking for help from the Police. When Steven returns to warn of the approach of two policemen, the newcomer tells him and the Doctor that her name is Dodo Chaplet. Could she be a descendant of Anne? The Doctor hits the "dematerialise" button, once again kidnapping a companion. Steven is outraged but Dodo doesn't seem to mind.
---
Tropes
---