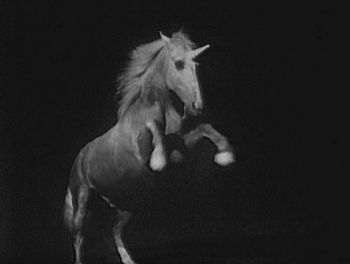 We obey our creator, that is all that can be expected of any character, unless the Master bids us otherwise.
— Lemuel Gulliver
The weird one. With a knock-off version of Jamie.
To escape from the lava flow at the end of "The Dominators", the Doctor hits the emergency switch, zapping the TARDIS out of space-time and into a featureless white void, where they are attacked by white robots (some "void").
And then things get weird.
They flee back to the TARDIS which promptly explodes, leaving Jamie and Zoe clinging to the control console in space, while the Doctor appears to be dead. Suddenly, they find themselves in what appears to be a fictional landscape, menaced by lifesize clockworks soldiers and meeting characters like Gulliver and Rapunzel.
The Doctor discovers that they are in the Land of Fiction, a realm of a different dimension presided over by The Master of the Land (not that Master, thankfully): an English writer from the 1920s who has been yanked out of his own time and is being controlled by the Master Brain computer. The Master wants the Doctor to take his place and the two enter a battle of wills using fictional characters.
Zoe and Jamie arrive and succeed in overloading the Master Brain, which is then destroyed in the confusion by the White Robots, freeing the Master and allowing the Doctor and friends to escape.
---
This is the only serial to use episodes of 20 minutes rather than the usual 25; it was made at the end of the fifth season's production block, and the show had been in production for 46 consecutive weeks, and the scripts were edited down out of sympathy for an exhausted Patrick Troughton. (Episode 5 has the distinction of being the shortest
Doctor Who
episode ever, running to exactly 18 minutes.) The first episode is also notable as having been hastily added when the previous serial was reduced from 6 episodes to 5 at the last minute; it has no credited writer, as it was devised on-set by the director, prop department and actors.
Tropes
---