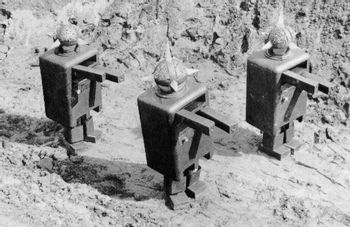 The one where the Doctor eats some jelly babies. Bet you those won't be showing up again either.
Written by Mervyn Haisman and Henry Lincoln (under the pseudonym Norman Ashby). This five-episode serial first aired from August 10 to September 7, 1968.
---
Season Six kicks off with "The Dominators", which sees the TARDIS arrive on a peaceful planet of fashion disasters named Dulkis. The Doctor has visited the planet before, but didn't expect to accidentally land on an island that once served as a nuclear test site—especially considering that the last time he was here, the planet was uniformly peaceful. He's also puzzled by the fact that there seems to be no radioactivity present on this nuclear test site. Two alien invaders called Dominators, hailing from another planet of fashion disasters, also land on the island and promptly use their box-shaped robots (Quarks) to turn the pacifist Dulcians into slaves.
The Doctor, Jamie and Zoe make friends with Cully, the son of one of the Dulcian councillors. They convince him to fight back despite his people's pacifism and love for drawn-out ethical debates. The Dominators' ultimate plan is to drop an "Atomic Seed" into a volcano, converting the planet into a lump of radioactive fuel for the Dominator fleet. Zoe is forced to wear a dress.
The Doctor intercepts the atomic seed and plants it aboard the Dominators' ship as it leaves, destroying it and killing its pilots, while the volcano erupts harmlessly. (Well, nearly harmlessly, as the TARDIS is right in the path of the lava flow. This cliffhanger leads directly into the following story.)
---
Tropes included
---