Poison Ivy (Pamela Isley)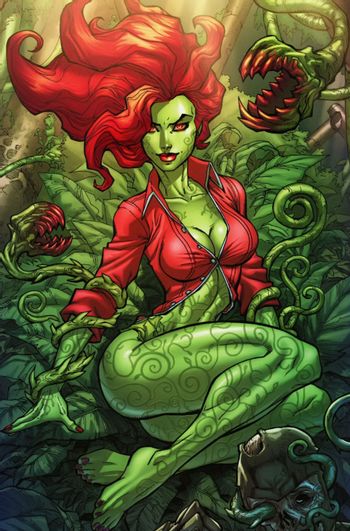 Poison Ivy was created by Robert Kanigher in 1966 debuting in Batman #181 as a villainous Expy of Bettie Page, as well as a replacement villainess for Catwoman, who had graduated from an Anti-Villain into an Anti-Hero. She was also meant to be DC's take on the then-recent feminist movement, as she would be an independent villainess not tied to any other villain as their Baroness or lover. At her core, however, she is a Femme Fatale and one of the deadliest in all of comics.
Her most consistent origin is that of a botanist named Dr. Pamela Isley who has an obsession/affinity for plants. Following some type of lab accident (which may or may not have been caused by corrupt supervisors/backers), she becomes the eco-terrorist known as Poison Ivy. Though she started out as a Badass Normal only using plants as her gimmick, due to several levels taken in badass and many Retcons, she has gained more and more powerful Green Thumb abilities over time, as well as pheromone powers and various forms of poisons and toxins (usually delivered by skin contact, with a natural preference for kisses). She is also sometimes revealed to be half plant herself. This makes her one of the rare Batman villains that has legitimate superpowers.
She, like Catwoman before her, has become more and more sympathetically portrayed as time goes on. Sometimes, Ivy's a love interest for Batman too, with several stories implying something deeper between them. On the other hand, she has gained a regular Love Interest in Harley Quinn, whose main portrayal is as the Joker's ex-girlfriend and former sidekick. In 2015, DC editorial confirmed that Ivy and Quinn are sexual partners, making them one of the most prominent same-sex couples in comics. Both women have also become affiliated with the Suicide Squad and the Birds of Prey, making them very ambiguous Heel Face Revolving Doors.
In 2015, Poison Ivy received her first-ever self-titled comic, in the form of a limited series called Poison Ivy Cycle Of Life And Death.
open/close all folders
Works that feature Poison Ivy as a main character
---
Tropes associated with Poison Ivy:
A-G
H-Y
---