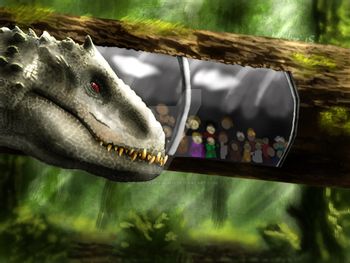 Her hateful gaze was all too familiar, almost a mirror when he saw past the crimson color, and slit pupils. Because we all know the scientists of Jurassic World had proven themselves incapable of exercising discipline when it came to temptations. Why would it be any different with creating the Indominus?
It's not the Raptor DNA
is an Alternate Universe Jurassic World fanfic by SkullsandDuggery. Simply put, the Indominus rex (or Elise, as she shall be called from now on) has had human DNA added into her genetic mix. When Owen realizes she is intelligent enough to communicate with humans as well as raptors, in addition to having human self-awareness and the ability to feel empathy, what is he to do?
More complications are then thrown in when the Jurassic World Board and InGen start having disputes over her ownership, and the morality of having an intelligent, self-aware creature being owned and used as an attraction in the first place. Things will get better, though.
Quite famed for updating very frequently (until the updates stopped February of 2017 leaving the fic at 89 chapters) as well as having tight character development, and relationship building between the characters.
---
This fanfic provides examples of:
---
She can read.