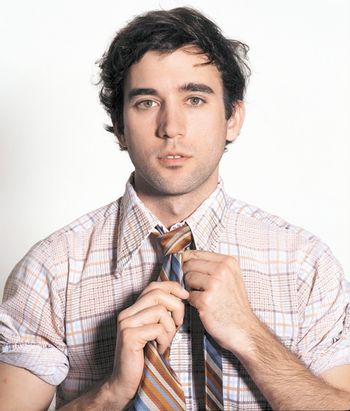 "SUFJAN STEVENS plays the following instruments: acoustic guitar, piano, wurlitzer, electric bass, drum kit, electric guitar, oboe, Miriam's alto saxophone, Summin's flute, Daniel's banjo and/or Matt's banjo (depending on which one was in tune), Shara's glockenspiel, Laura's rickety accordion, a rented vibraphone, various recorders (Sufjan owns the tenor, soprano, and sopranino, but he borrowed Monique's alto), a Casiotone MT-70, sleigh bells, shakers, tambourine, triangle, and a Baldwin electric church organ. Oh Lord, help us!"
— From the Illinois liner notes
Sufjan Stevens (born July 1, 1975) is an American multi-instrumentalist, singer-songwriter and independent musician (born and raised in Michigan, now based in New York) beholden to no genre. He's most famous for his albums about the states of Michigan and Illinois—featuring a mix of Folk Music, Baroque Pop, and Post-Rock—and for claiming that he planned to release similar albums for the other 48 states (a project he eventually scrapped and admitted was a "promotional gimmick"). However, he's also released albums of straight folk (Seven Swans, Carrie & Lowell), electronica (Enjoy Your Rabbit, The Ascension), and orchestral music (The B.Q.E.); and the genre of The Age of Adz and Silver & Gold could perhaps be described as "all of the above".
His musical collaborators include Daniel Smith, Aaron and Bryce Dessner, Annie Clark, Shara Worden, and the string quartet Osso. He's also one-third of the alternative hip-hop group Sisyphus, alongside Serengeti and Son Lux.
Discography (main studio albums are bolded):
A Sun Came (2000)
Enjoy Your Rabbit (2001)
Michigan, aka Greetings from Michigan, the Great Lake State (2003)
Seven Swans (2004)
A Sun Came! (2004) (reissued version, with two bonus tracks and new cover art)
Illinois, aka Come On, Feel the Illinoise! (2005)
The Avalanche: Outtakes and Extras from the Illinois Album (2006)
Songs for Christmas: Volumes I - V (2006)
The BQE (2009) (soundtrack album for the eponymous live performance)
All Delighted People EP (2010)
The Age of Adz (2010)
Silver & Gold: Songs for Christmas, Vols. 6 -10 (2012)
Carrie & Lowell (2015)
Carrie & Lowell Live (2017) (Live Album from Sufjan's 2015 Carrie & Lowell tour)
The Greatest Gift (2017) (mixtape of Carrie & Lowell outtakes, remixes, and demos)
"Tonya Harding" (2017) (standalone single with two version of the titular song)
"Love Yourself / With My Whole Heart" (2019) (special single released to coincide with Pride 2019)
The Ascension (2020)
Convocations (2021)
Notable collaborations:
Run Rabbit Run (2009) with Osso (a rearrangement of Enjoy Your Rabbit for a string quartet)
Hit & Run, Vol. 1 (2012) with Rosie Thomas (split 7" vinyl collab)
Beak & Claw EP (2012) with Serengeti and Son Lux (under the group name Sisyphus)
Sisyphus (2014) with Sisyphus
Planetarium (2017) with Nico Muhly, Bryce Dessner, and James McAlister
Call Me by Your Name: Original Motion Picture Soundtrack (2017) with various artists (Sufjan contributed two original songs and one remix of an Age of Adz track)
The Decalogue (2019) with Timo Andres (originated as the score for a Justin Peck ballet)
Aporia (2020) with Lowell Brams (Sufjan's stepfather, and one half of Carrie & Lowell's namesake)
---
Most of these can be streamed in their entirety on Sufjan's
Bandcamp page
.
By the way, Snow Patrol got his first name wrong. It's pronounced "Soof-yahn", not "Suhf-yahn".
---
To the Workers of the Rock River Valley Region, I Have an Idea Concerning Your Predicament, and It Involves Tube Socks, a Paper Airplane, Twenty-Two Able-Bodied Men, and the Following Tropes:
---