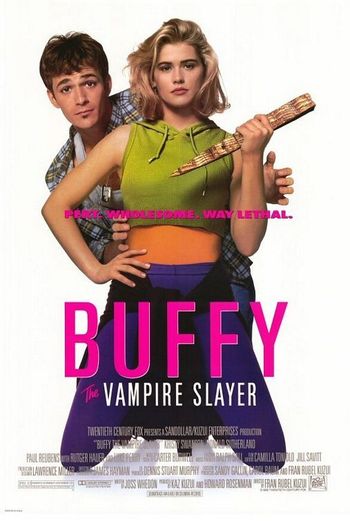 "You're not like other girls."
Before the series, there was this.
In 1992, Joss Whedon wrote a script for a movie called Buffy the Vampire Slayer. The plot should be very familiar to a lot of us: a Valley Girl named Buffy finds out that she is The Chosen One. An old British guy named Merrick trains her to become "the Slayer." Her job is to fight a bunch of vampires. Like the series it would later spawn, the Buffy movie was intended as a subversion of the usual "Damsel in Distress" roles that young women usually fill in horror movies. 20th Century Fox picked it up and turned it into a movie.
The end results... weren't really what Joss planned. The original script intended the film to be a serious metaphor of female empowerment with a comedic bent, but the director (Fran Rubel Kuzui) turned the film into an outright comedy.
Five years later, we got the well-known series Buffy the Vampire Slayer, and the rest is history. Though the film did initially have a hand in making it more recognizable since some people did remember the character from the movie, the TV version of the character swiftly and almost entirely eclipsed the original. The events of the film itself still canonically occurred in Broad Strokes in the regular Buffyverse — but more specifically those of the original screenplay, not the released movie. Though there isn't much difference, the original screenplay is more drama-based, and only Merrick's fate and the climax of the film (in which Buffy traps the vampires in a gym and burns it down) are major factors shared between the two versions.
The original screenplay would later be adapted in the comic series as "The Origin".
---
This film provides examples of:
---
"Yes, I am."