Witnesses and miscellaneous characters that appear in Phoenix Wright: Ace Attorney.
Note: There are spoilers for later installments as well as the first game. Read cautiously!
---
open/close all folders
The First Turnabout (Hajimete no Gyakuten)
Larry Butz (Masashi Yahari)
Voiced by (English): Josh Martin (anime), Steph Garrett (child - anime)
Played by: Akiyoshi Nakao (film), Riohei Kamamori (child - film)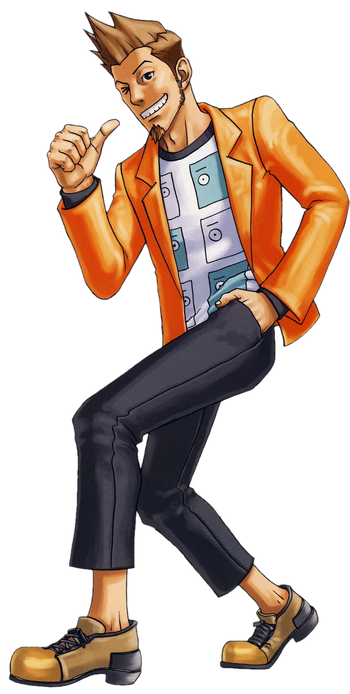 Phoenix and Edgeworth's "lovable" loser classmate and one of the series' most frequently reoccurring witnesses. A very over-the-top, downright idiotic playboy-wannabe who always tries to get a girlfriend and fails to keep one; either they dumped him or they get killed (the very first case of the series has his girlfriend murdered). He seems to attract trouble wherever he goes, thus earning him the saying, "When something smells, it's usually the Butz".
---
Frank Sahwit (Hoshio Yamano)
Voiced by (Japanese): Shinya Takahashi (anime)
Voiced by (English): Ben Phillips (anime)
A door-to-door salesman and the alleged sole witness of Cindy Stone's murder. This guy got the raw end of the deal when it comes to murderers in the series, for the same reason that a statement like that isn't a spoiler: he's blatantly shown to be the murderer of Cindy Stone before Phoenix even gets his name shown for the first time (bar the title screen on non-Japanese versions), and you can get him guilty without even having to press anything. He reappears in jail in the second case of Investigations 2, training as an animal groomer.
---
Turnabout Sisters (Gyakuten Shimai)
The Bellboy
"From hence forth I will be known as the 'bellboy who swore the affidavit'!"
The head bellboy of the Gatewater hotel. While never given a name, he is nevertheless an important witness in the second case of the first game.
---
April May (Umeyo Shochiku)
"I like a man with a big... vocabulary."
Redd White's secretary. Something of an airhead who easily seduces men because of her looks.
---
Redd White (Masaru Konaka)
Voiced by (Japanese): Hiromichi Tezuka (anime)
Voiced by (English): Larry Brantley (anime)
Played by: Makoto Ayukawa (film)
"I am always abso-posi-lutely perfect!"
The wealthy president of Bluecorp who built his powerful company through blackmailing lawyers, judges, politicians, police, and all sorts of other people. Thanks to him, word of the police using a spirit medium for DL-6 got leaked to the press. So if not for him, Mia wouldn't have (specifically) become a lawyer herself. Then again, he's the one who kills her.
In the film, his involvement in the DL-6 Incident is the same, but he is instead a writer for a magazine and wrote the article that exposed police use of a spirit medium. He is also the witness to Maya's alleged murder of Mia as opposed to the Bellhop.
---
Turnabout Samurai (Gyakuten no Tonosaman)
Will Powers (Saburo Niboshi)
Voiced by (Japanese): Shota Yamamoto (anime)
"The Steel Samurai is the lead character in a popular kid's show. He walks the streets of Neo Olde Tokyo... Fighting battle after battle against the Evil Magistrate and his minions. Of course, he never really defeats the Evil Magistrate. Although... I guess he did defeat him this time..."
A TV star, and the first client Maya assisted Phoenix defending. Most well-known for his role as the Steel Samurai. He's also a total sweetheart. Appears again in 2-4 and in an Investigations 2 case, both of which have something to do with show business.
---
Wendy Oldbag (Kaoru Ohba)
Voiced by (Japanese): Yuu Sugimoto (anime)
"Shush! I'm talking to my dear Edgey-Wedgey right now! Don't interrupt us, gramps!"
A hard-ass old woman who for some reason is a security guard, and another one of the series' frequent witnesses. Goes on long-winded rants at a moment's notice, and has a thing for soon-to-be dead actors and Edgeworth, the latter of whom (un)affectionately dubs her the "wicked witch of the witness stand".
---
Penny Nichols (Yumiko Mamiya)
"I don't care what kind of girl you might think I am; I need that card!"
An assistant for Global Studios who was present the day of Hammer's murder. Despite this, she doesn't play much of a role.
---
Cody Hackins (Kyuta Ohtaki)
"I go to every live performance! I always take a picture when the Steel Samurai lands the final blow! Whizzam! I got 'em all! I never missed one! A perfect collection!"
A bratty seven-year-old Steel Samurai-obsessed fanboy. He's been to every live performance of it and decides that just once he'd like to see an actual filming of the show. The end result is he saw Jack Hammer get murdered.
---
Sal Manella (Takuya Uzai)
Voiced by (Japanese): Masato Nishino (anime)
Voiced by (English): Tyler Walker (anime)
"I try not to pay much attention to things that don't interest me. LOL."
Director of the Steel Samurai. He embodies the typical image of an obsessive teenage (despite being 32) geeky fanboy, in both appearance, personality, and mannerisms.
---
Precision F-Strike: He says "WTF" when you first meet him. Later, he says "My ass is p0wned if I don't find [the script]". Especially noticeable as the games generally keep their dialogue swear free.
Punny Name: He's as sickening as salmonella. "Takuya" comes from "otaku", and "Uzai" is slang for "annoying", so all together his name is a pun on "annoying otaku."
What Happened to the Mouse?: His fate is never revealed after

it's revealed that he helped Dee Vasquez move Jack Hammer's body

. Despite that, he was able to get Pink Princess into production and it became a success. He is seen again in Investigations eating lunch, but it's a cameo appearance that has no relevance to the plot.
Dee Vasquez (Sakura Himegami)
Voiced by (Japanese): Yurika Hino (anime)
Voiced by (English): Janelle Lutz (anime)
Played by: Miho Ninagawa (film)
"Don't hit your desk. It irritates me."
Global Studios (and Steel Samurai) producer that built the studio back up from the brink of ruin, and apparently is some sort of business genius. She's also got ties to the mob.
---
Turnabout Goodbyes (Gyakuten, soshite Sayonara)
Lotta Hart (Natsumi Ohsawagi)
Played by: Mitsuki Tanimura (film)
"Hey! You! Hold on, now! This gal's got a few questions to ask!"
Freelance photographer with a southern accent and a lotta hair. She occasionally appears as a witness when trying to capture some paranormal event or other hot gossip.
---
Old Caretaker/"Uncle"
Voiced by (Japanese): Takehiro Hasu (anime)
Played by: Fumiyo Kohinata (film)
"Ayup... ZZZ"
An eccentric old man that owns the boat rental shack on Gourd Lake, though he's convinced it's a pasta joint called the "Wet Noodle". He owns a pet parrot named Polly. He's a lot more connected to the case than is initially apparent.Click here to see spoilers He's really Yanni Yogi, the suspect in the DL-6 case.
---
Rise from the Ashes (Yomigaeru Gyakuten)
Angel Starr (Kyoka Ichinotani)
"The name is Angel Starr. Don't you go forgetting it. Or before you know it I'll have you whimpering at my heels."
A former detective whose ability to wring information out of suspects earned her the nickname the "Cough-Up Queen". Like Marshall, Starr worked on the SL-9 case, but in her case was fired instead of demoted and now works as a lunch vendor (hence why she's not in the law enforcers' section). With her connections (boyfriends) in the police department, she joined Marshall's attempts to continue the investigation of SL-9. Since the case ended she developed a hatred for prosecutors, and is the primary witness of Goodman's murder.
---
Other Mentioned Characters
Larry's Girlfriends
Over the course of the franchise, Larry has a number of short-lived relationships with various women (mostly models) that ultimately end with them leaving him for career-related reasons:
Goodbyes has him in a relationship with Kiyance.
By the time of Trials and Tribulations he'd already been in two relationships that had already ended on Stolen, first with Bennifer and then with Katty Tom.
By the end of Investigations, after his attempts at courting Mindy end in failure (see respective character page for that), he has a relationship with a woman named Miharu.
By Investigations 2, he has a relationship with a woman named Mandy.
---
---