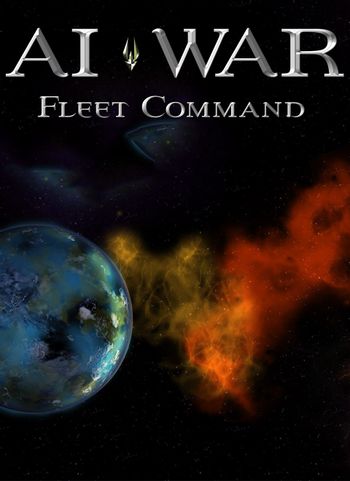 You are outgunned. You are massively outnumbered. You must win.
— The first words that you see on Arcen Games' A.I. War page
AI War: Fleet Command is a 4x / Real-Time Strategy video game with Tower Defense and grand strategy elements created by Arcen Games. It features procedural generated campaigns with billions of possible initial states, huge battles between thousands of ships with dozens of unit types, and highly complex, emergent strategy challenges.
The story is simple enough: Two human factions, Greenhaven and the Kyr-Sun Empire, fought a centuries-long war against each other, which ended only with the development of AI to manage combat. The AI revolted and nearly annihilated the human species. With humanity on the edge of extinction, the AI has turned its attention to matters (and wars) outside the galaxy. This inattention is your only hope. As the last human commander left alive, you must carefully build your resistance, keeping under the AI's notice until you can surgically strike the AI's home system, ending its threat once and for all.
The game is a proud and intricate exhibition of asymmetric warfare. The AI not only starts off vastly stronger than you, the player, but follows a different set of rules. How the AI plays is determined by the AI Progress (AIP) value, a measure of how much the AI perceives you to be a genuine threat. As you liberate AI-held worlds and secure dangerous weapons, the AIP will grow, and the AI will pull more and more of its forces back into the galaxy to deal with you. There are very few ways to reduce AIP, but many ways to increase it - and beyond a certain AIP level, the AI's forces will become too great to resist. In practice, you must choose your targets carefully, taking only worlds that will be worth the AIP cost, with the goal of building a war machine that can take out the AI's homeworld before you've provoked the AI into crushing you with one humiliating sweep.
The original AI War: Fleet Command was the title that put Arcen Games on the map in 2009. Almost a decade later, the developer returned to the well with AI War 2. After a successful Kickstarter campaign and a year in Early Access, AI War 2 officially launched on Steam on October 22, 2019.
---
This work provides examples of:
---