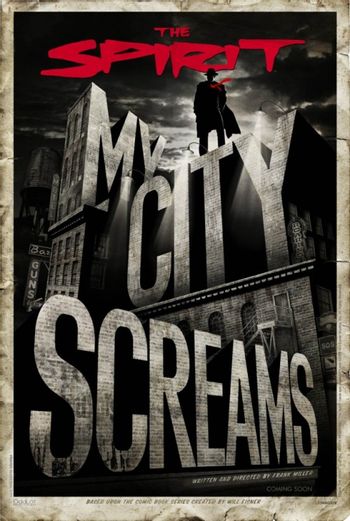 "My city screams. She needs me. She is my love. She is my life. And I am her Spirit."
This is for the 2008 film version of The Spirit; for the comic series, see here.
The Spirit is a 2008 neo-noir superhero film, written and directed by Frank Miller and starring Gabriel Macht, Eva Mendes, Sarah Paulson, Paz Vega, Jaime King, Scarlett Johansson, and Samuel L. Jackson. The film is based on the newspaper comic The Spirit by Will Eisner.
In Central City, rookie cop Denny Colt (Gabriel Macht) returns from the dead as a private detective, known only as "The Spirit," to fight crime. After he finds his nemesis, the Octopus (Samuel L. Jackson), in a mud hole, Femme Fatale Sand Saref (Eva Mendes) uncovers two chests in the water nearby. She tries to flee with both chests, but the Octopus shoots at her, snapping the line that connects the chests together. After a fight with the Spirit, the Octopus takes the remaining chest and escapes with one of his thugs.
The Octopus wanted the mystical Blood of Heracles to become immortal and Sand wanted the Golden Fleece of the Argonauts, but both ended up with the wrong one. The Spirit must track down and stop the Octopus before he trades chests with Sand, becoming immortal.
---
This movie provides examples of:
---