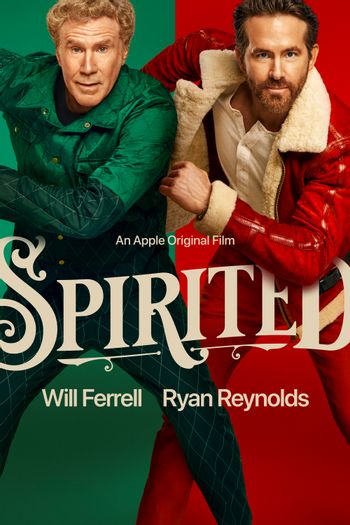 Do people really change? I mean, real, lasting, positive change. I sure hope so, because we are in the business of change.
—The Ghost of Christmas Present
Spirited is a 2022 musical fantasy Christmas comedy film and the latest in the long and hallowed tradition of adaptations of Charles Dickens' timeless classic A Christmas Carol. It is directed by Sean Anders (Daddy's Home, Instant Family), written by Anders and John Morris, features music by Pasek and Paul, and produced by and starring Will Ferrell and Ryan Reynolds.
For centuries the Ghosts of Christmas Past (Sunita Mani), Present (Ferrell), and Yet-To-Come (Voice of Tracy Morgan) have worked hard every Christmas to take some of the worst people on Earth, show them the error of their ways, and let their subsequent goodness ripple out into the world and make it a better place. However, the team faces their greatest challenge ever when Present proposes haunting a "unredeemable" PR man by the name of Clint Briggs (Reynolds). While Present is determined to save his soul, the wily and fast-talking Briggs soon turns the tables on Present, forcing him to reckon with his past and future. Also cast are Aimee Carrero, Patrick Page, P. J. Byrne and Octavia Spencer.
The film had a limited theatrical release on November 11, 2022 before streaming on Apple TV+ on November 18.
Not to be confused with the television series of the same name.
Previews: Teaser Trailer
, Main Trailer
---
Spirited includes examples of the following:
---
You've been Christmas Carol-ed, bitch!