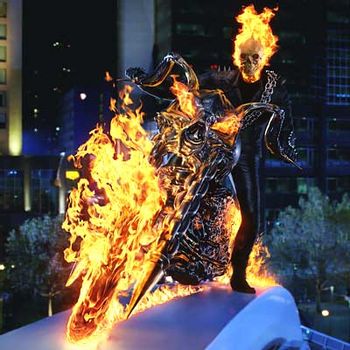 Ghost Rider (2007) is a supernatural action film based on the comic book of the same name from Marvel Comics.
Johnny Blaze, the son in a father-son motorcycle stunt team, is in love with Roxanne, the daughter of the richest man in town. After planning to run away with her, Johnny discovers his father is terminally ill with little time left. The Devil (in a Cameo performance by Peter Fonda) shows up and offers Johnny a Deal with the Devil. Johnny asks the Devil to save his father's life. Miraculously, Barton Blaze is cured of his cancer, but dies immediately afterward in an accident because the Devil wants Johnny freed up.
Realizing what he's just gotten himself into, Johnny takes off and abandons his sweetheart at their meeting place.
Fifteen or twenty years later, we join Johnny (Nicolas Cage) on the road. He's now a world-famous stunt cyclist, and repeating the Survival Mantra "you can't live in fear", knowing the Devil hasn't come for him yet, but he keeps living through the increasingly insane stunts he does.
Meanwhile, Blackheart (Wes Bentley), son of the Devil, shows up and has decided it's time for the old man to step aside for a new Lord of Hell. He summons three elemental demons to serve him, promising that if they help him defeat the Devil, he'll give them nobility in Hell.
Meanwhile, Roxanne has turned up to interview Johnny after his stunt. Johnny takes this as a sign and asks her out. But the Devil of course picks the night she agrees to give him another chance to call in his marker. Johnny refuses, but cannot resist the power of hell. He transforms into the Ghost Rider and dispatches the first of Blackheart's minibosses. Now Johnny must try to control the power of the Rider, defeat the elemental demons, and Blackheart - all while trying to keep Roxanne out of the line of fire.
The rest of the film plays out like a video game. Meet a mentor. Character Development (such that it is), Boss Fight with one of the minibosses.
Followed by a 2012 sequel, Ghost Rider: Spirit of Vengeance.
---
This film provides examples of:
---